Cuba Loses First, 4-1 to The Netherlands
By Circles Robinson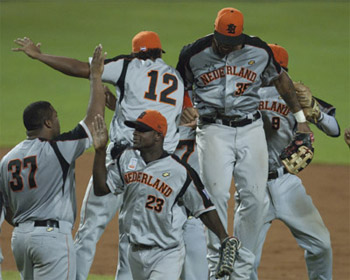 HAVANA TIMES, Oct. 13 — Cuba lost for the first time at the 2011 World Cup Baseball tournament on Thursday, victim to stellar pitching and two homers by the Netherlands in the seven inning game.
The Netherlands (5-1) moved a half game ahead of Cuba (4-1) in Round Two of the Cup.  The top two of eight competing teams will faceoff in the finals.
Orlando Yntema pitched five innings of four-hit one-run ball to get the win. He struck out three and walked two.
His rockiest inning was the fourth when Frederich Cepeda opened with a double followed by an RBI two-bagger by Alfredo Despaigne.
Yuliesky Gourriel then singled to put runners on the corners with still nobody out, but Yntema pitched his way out of the jam without further damage, retiring Abreu, Duvergel and Alarcon.
Leon Boyd came on to pitch the final scoreless innings for the Netherlands allowing just one hit while striking out two and walking one.
The Netherlands out hit the Cubans six to five and used the long ball to put all their runs on the scoreboard.
Veteran right fielder Brian Engelhardt blasted a two-run homer on the first pitch he received from Cuban starter Miguel Alfredo Gonzalez in the second to put The Netherlands up 2-0.
After Cuba got within a run in the fourth, the Netherlands went to the bleachers again in fifth as center fielder Kalian Sams belted another two-run homer to center in what proved to end of the scoring for the game.
Gonzalez took the loss for Cuba allowing all of the Netherlands runs on four hits including the two homers. He got the hook after 4.1 innings with Jonder Martinez pitching the final 2.2 innings allowing two hits and no runs.
Cuba has a must win game against Canada (4-2) on Friday afternoon, while the Netherlands is the first European team to make a World Cup Baseball final.  Their rivals for that game on Saturday will be either Canada or Cuba, depending on Friday's game between those two teams.
Cuba also plays a night game on Friday against Panama, but statistically the pressure is on for the Canada match-up.
The top two teams after second round play are scheduled to meet for the championship on Saturday, weather permitting.
Second Round Standings
1) Netherlands 5-1
2) Cuba 4-1
3) Canada 4-2
4) USA 2-3
5) Panama 2-3
6) Korea 2-4
7) Australia 2-4
8) Venezuela 1-4
Schedule, Friday, October 14
11h00 Korea – USA (Aguadulce)
11h00 Panama – Australia (Panama City)
15h30 Venezuela – USA (Aguadulce)
15h30 Canada – Cuba (Panama City)
19h30 Cuba – Panama (Panama City)
19h30 Venezuela – Netherlands (Aguadulce)
(local times Panama)