Cuba Not Invited to Americas Summit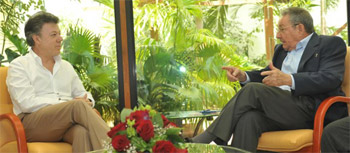 HAVANA TIMES, March 7 — Colombia will not invite Cuba to attend the Summit of the Americas in Cartegena, said the South American country's president Juan Manuel Santos after a four-hour meeting in Havana on Wednesday with Raul Castro.
Santos said a lack of consensus on Cuba's participation led him to make the decision to not extend an invitation, reported the dpa news agency.
"As we said from the beginning, the issue is one that requires a consensus, which unfortunately we were unable to reach"; said Santos in the Cuban capital, where he had come to discuss possible Cuban participation.
It was the eight-nation Bolivarian Alliance of the Americas (ALBA) countries, led by Ecuador, which had insisted on Cuba being invited to the hemispheric forum. The only, but significant, opposition to Cuba's attendance came from the Obama administration.
"I told President Castro that we appreciate his desire to be part of the gathering, but that without a consensus it would be very difficult to extend an invitation (to Cuba)", said Santos after his meeting with the Cuban leader.
Regarding his talks with Castro, Santos noted the understanding expressed for the position of Colombia as the host of the summit. "We appreciate his understanding… and his not wanting to create a problem for either the summit or Colombia."