Cuba Not on Initial Track for TS Ophelia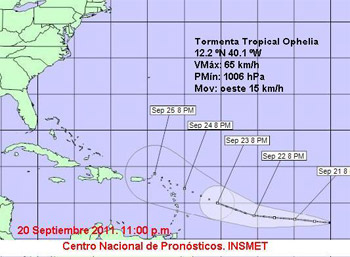 HAVANA TIMES, Sept. 21 — Tropical Storm Ophelia was born on Tuesday night in the Central Atlantic and is moving west on a similar path to several storms this hurricane season, informed the Cuban Weather Service (INSMET).
According to initial forecasts, the storm will reach near the far north of the Leeward Islands (NE Caribbean) by Sunday.
If projections hold, the eye of Ophelia will then move north of Puerto Rico by Monday.
Then, if it keeps the path of several preceeding storms, it will steer north of the Dominican Republic, Haiti and Cuba.
Nonetheless, it is still too early to make a forecast beyond Monday.
On Thursday at 11:00 a.m. EDT the National Hurricane Center (NHC) in Miami pegged Ophelia moving west at 16 mph (25 kph) with maximum sustained winds of 60 mph (96 kph).