Cuba Not on Path of Katia, Maria or Nate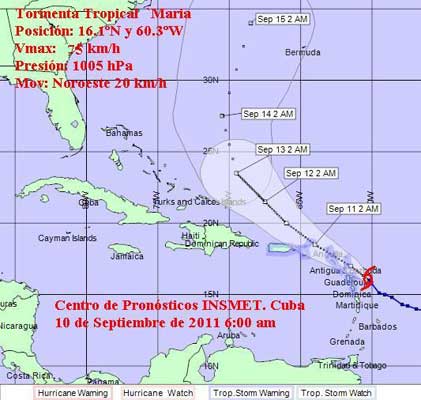 HAVANA TIMES, Sept. 10 — None of the three current Atlantic storms:  Hurricane Katia and TS Maria and TS Nate are expected to have any effect on Cuba, shows the projection cones from the Cuban Weather Service (INSMET) and the National Hurricane Center (NHC).
In its latest report on Saturday morning, INSMET shows a slightly weakened TS Maria moving northwest at 12 mph (20 kph) with its center located 80 miles (130 kms) east of Guadalupe in the Lesser Antilles and 405 miles (655 kms) east, southeast of San Juan, Puerto Rico.
Maria packs maximum sustained winds of 40 mph (65 kph) and according to the National Hurricane Center has lost some in organization and could degenerate further on Saturday.
An NHC tropical storm warning is in effect for St. Maartin, Saba and St. Eustatius islands as well as Antigua, Anguilla, Barbuda, Montserrat, Nevis & Saint Kitts and the British and US. Virgin Islands plus Puerto Rico including Vieques and Culebra islands.
After passing over or north of Puerto Rico, Maria could gain some strength as it moves north into the open Atlantic far from the US East Coast.
Meanwhile, TS Nate packs 50 mph (85 kph) winds and is moving slowing east of Mexican Gulf Coast.  A tropical storm warning is in place for Tampico to Punta El Lagarto, which will most likely be impacted by the center of the storm sometime Sunday.
Lastly, Hurricane Katia is moving swiftly over the North Atlantic en route towards Ireland and Scotland.  The NHC currently shows the storm reaching parts of those countries with tropical wind force.