Cuba over Italy 5-1 at Panama World Cup
by Circles Robinson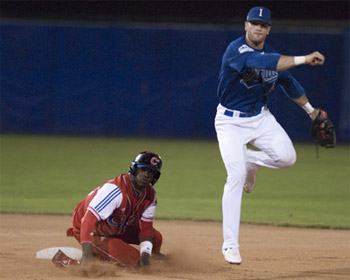 HAVANA TIMES, Oct. 8 — Cuba continued its pitching mastery and undefeated status in defeating Italy 5-1 at the IBAF World Cup taking place in Panama on Friday night.
The Cubans have won all five of their first round games scoring a total of 40 runs to their opponents five.
Rusney Castillo and Jose Dariel Abreu both homered and accounted for five of Cuba's 8 hits.  Castillo's solo blast put the Cubans ahead 1-0 in the third inning.  Abreu made it 2-0 with his homer in the fifth.
Cuba took a 3-0 lead in the seventh on an RBI double by Abreu.  The score went 5-0 in the eighth thanks to a hit batter, two walks and two wild pitches from reliever Andrea Pizzicioni.
Winning pitcher Freddy Asiel Alvarez scattered seven singles, one of which scored in the eighth inning after reliever  Alberto Soto came on to get the final six outs.  Alvarez didn't walk a batter, struck out six and only needed 87 pitches for 7.0 innings.
Carlos Richeeti pitched relatively well against the Cubans allowing three runs on six hits in six innings, but took the loss.
With two games remaining in Round One (against Germany on Saturday and Nicaragua on Sunday) Cuba has clinched a ticket for Round Two.
Four teams will qualify from each of the two groups for second round play to take place on October 10-14.
Standings
Group 1
1) Netherlands 5-0, 2) Panama 5-0, 3) Canada 4-1, 4) USA 3-2, 5) Puerto Rico 2-3, 6) Japan 1-4, 7) Greece 0-5, 8) Chinese Taipei 0-5
Group 2
1) Cuba 5-0, 2) Venezuela 4-1, 3) Korea 3-2, 4) Italy 3-2, 5) Dominican Republic 2-3, 6) Australia 2-3, 7) Nicaragua 1-4, 8) Germany 0-5
Schedule, Saturday, October 8
Netherlands – Canada, Greece – Chinese Taipei, Australia – Venezuela, Cuba – Germany, Panama – USA, Puerto Rico – Japan, Korea – Italy, Dominican Republic – Nicaragua
Summary of the other games played on Friday courtesy of the IBAF, organizers of the tournament.
Group 1
Japan 3 – Chinese Taipei 1
Japan has finally won its first game at the 2011 IBAF Baseball World Cup. They prevailed in a pitcher's duel against Chinese Taipei on Friday afternoon at Rod Carew Stadium in Panama City. Team Nippon took the lead with a two-run third and never looked back. The game saw just eight hits overall, as both defenses dominated for most parts of the contest. Japan's starting pitcher Naobumi Mitsuhashi pitched a complete game. Chun Hsiu Chen hit a solo homerun for Chinese Taipei, which remains winless after five games in the tournament.
Puerto Rico 10 – Greece 1
Puerto Rico didn't miss the afternoon game in Aguadulce and picked up a win over Greece (10-1). The Caribbean team did not need to make much effort in the first half of the game and increasd its advantage in the last three innings where they scored six times. 14 hits, with one homerun by Cesar Crespo, and a bad performance by the European defense, four errors, opened the way to the victory.
Canada 3 – Panama 12
Host Panama used a pair of three-run homeruns to storm 12-3 past Canada in a key Group 1 matchup between previously undefeated teams on Friday evening at Rod Carew Stadium in Panama City. Panama joined the Netherlands as the second 5-0 team in the pool and cruises into the second round. The Maple Leafs were able to erase an early 0-3 deficit, but couldn't come back a second time and have to settle for their first loss.
USA 5 – Netherlands 7
Netherlands is still undefeated after their game against the defending World Cup champions, the United States. Seven runs in two offensive innings delivered an important win for the Dutch team which is cruising through the first round with two games to play (5-0). The key of the match was the power of the European bats and a bad performance from the USA starting pitcher.
Group 2
Germany 5 – Venezuela 10
Germany scared Venezuela with five runs on seven hits off starter Jesus Yepez in the first two innings, but then Venezuela came back and built their win on a seven-run rally in the top of the fifth inning against starter Philipp Hoffschild, who left with one out, after having allowed a total ten hits. Left-handed curve ball specialist Juan Colmenarez earned the win pitching as a reliever. Johnny Caraballo and Luis Torres pitched the last three innings.
Dominican Republic 9 – Australia 11
Australia blew a 7-1 lead midway through the eighth, but still got away with an 11-9 victory over the Dominican Republic. With the win they improved to 2-3 in the 2011 IBAF Baseball World Cup and they are now tied in the standings with their opponent from Friday afternoon. The five-hour contest was decided through IBAF Extra-Inning Tiebreaker Rules in the tenth innings. Australia scored four runs mainly thanks to a bases clearing double by Mitch Dening. The Dominican team couldn't come back a second time and had to settle for the loss. They had tied the game with four runs in the bottom of the ninth.
Korea 6 – Nicaragua 4
South Korea defeated 6-4 Nicaragua in Omar Torrijos Stadium and could count on a good performance from the pitching staff and a defense that produced two double plays in key moments of the game. With bases loaded, Nicaragua scored in the first the first run of the game against South Korea, out of two walks and a defensive error by sub-mariner pitcher Jong Huen Park, with an RBI grounder by first baseman José Guido.