Cuba Patents New Lung Cancer Vaccine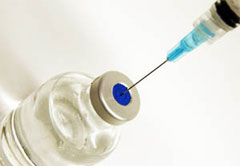 HAVANA TIMES — Cuba has just patented a vaccine for the treatment of lung cancer. The new medicine, "Racotumomab," was developed by the Center of Molecular Immunology, reported Cuban Information Agency.
"No one can say that this vaccine represents the cure for the disease, but it does increase life expectancy and the quality of life by reducing tumors," explained specialists, who were interpreting the results of clinical trials carried out last year in 86 countries.
This is the second vaccine of its kind, after CimaVax EGF, and it's expected that it will soon be put to use in polyclinics across the island. In addition, it's being introduced in Argentina for subsequent export to that South American nation.
Lung cancer is the disease with the second highest in incidence in Cuba and is the number one cause of death. Currently, an estimated 5,000 people on the island are in advanced stages of the ailment.