Cuba Playoffs: 3 Teams on the Brink
By Circles Robinson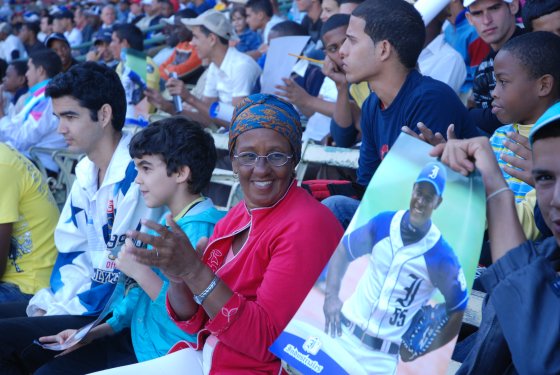 HAVANA TIMES, March 4 — Santiago de Cuba, Guantanamo and Cienfuegos are all on the brink of elimination in the first round of the Cuban League Baseball Playoffs taking place since last week.
Villa Clara came from behind with two runs in the eighth followed by a seven-run ninth on Wednesday to defeat perennial contender Santiago de Cuba 12-6.  Relief pitching has been one of Santiago's big weaknesses this year and yesterday's game proved no different.
Yolexis Ulacia pitched the final one and two-thirds scoreless innings to get the win.  Leading the charge for Villa Clara were Ariel Borrero, 4-for-5 and two runs scored and an RBI, Ariel Pestano and Almedis Diaz both homered with two RBIs each.  Ramon Lunar also drove in two.
Villa Clara now leads the series three games to none.
In the other Eastern Division playoff match up, Ciego de Avila (3-0) cruised to a 7-0 win over Guantanamo, the Cinderella team of the first two-thirds of the regular season but which has taken a nose dive ever since.
Alien Mora pitched the route allowing only one hit to the once feared Guantanamo lineup. He struck out three and didn't allow a walk.  Ciego jumped on Guantanamo starter Onelkis Garcia for five runs in the first inning.
In the hardest fought series of the playoffs, Havana Province, last year's league champs, are now 3-1 over Cienfuegos.  All four games have been pitching duels decided by one run.  On Wednesday, Havana held on for a 2-1 victory that puts Cienfuegos against the wall.
Yulieski Gonzalez pitched eight shutout innings while fanning eight to get the win for Havana.  Miguel Lahera gave up Cienfuegos lone run in the ninth.  Yuniel Leiva, who allowed Havana's runs in the third and fourth innings, took the loss.
In the other Western series, Industriales managed a 6-4 win over Sancti Spiritus, this season's toughest team, and is now ahead in their series two games to one.
Thursday's Games:
Villa Clara plays at Santiago de Cuba; Ciego de Avila hosts Guantanamo; Industriales hosts Sancti Spiritus and Cienfuegos plays at Havana Province.  The Industriales game is at 1:00 p.m. local time while the other three contests are night games.