Cuba Prepares as Hurricane Irma Aims for Puerto Rico
By Circles Robinson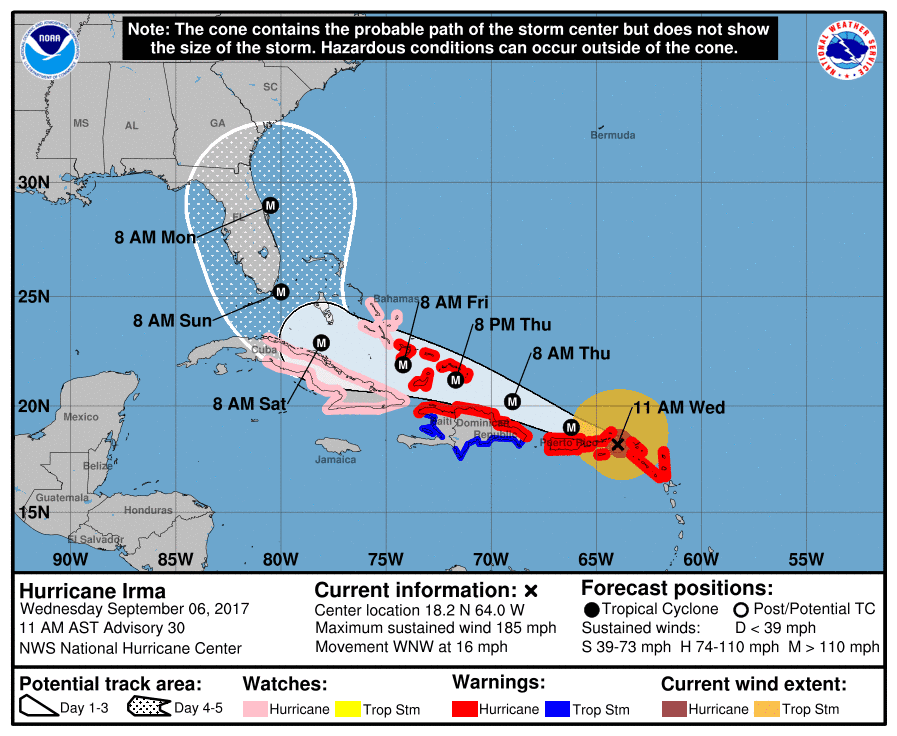 HAVANA TIMES – Hurricane Irma is still two days away from approaching far eastern Cuba but the time will fly and those aware of the danger are making preparations along with the Civil Defense authorities, now in the Hurricane Watch phase from Guantanamo to Matanzas.
With the eye of Irma located about 65 miles (110 km) east-southeast of St. Thomas and 140 miles (225 km) east of San Juan, Puerto Rico, here is what we can observe in the latest projection cone from the National Hurricane Center.
Firstly, lets note that the hurricane remains a Category 5 storm, the maximum on the Saffir-Simpson scale, with devastating 185 mph (295 km/h) maximum sustained winds and en extremely low minimum central pressure of 918 millibars.
Even if the eye of the storm doesn't come in to hit land in Cuba, as some projections suggest, much of the eastern and central regions, especially the north coast areas, are still very susceptible to either tropical storm or hurricane force winds, considerable sea surges, heavy rains and flooding.
At this time, we can observe (above) that the provinces of Sancti Spiritus and Ciego de Avila appear as possible points where Irma could touch land.

Further west in Havana, it is still too early to tell how the capital may be affected by sea surges and coastal flooding, a latent risk. The slight turn northeast in recent projections for the path of Irma, starting from Central Cuba, is good news for Havana, and bad news for Little Havana in Miami, where people are stocking up and boarding up windows.
However things could still change considerably in the coming 2-3 days. Cubans know all too well from experience how the path of hurricanes can make slight turns that make big differences.
Images of the devastating winds and dangerous sea surges, rain and flooding are something Cubans grow up with as the alligator shaped island is particularly vulnerable to such storms.
While the Civil Defense is known for its excellent work in saving lives, much of the country's housing stock, and even many historic buildings, are greatly deteriorated and highly vulnerable to the onslaught.
The last hurricane to strike Cuba was Hurricane Matthew in July 2016, which caused considerable damage to housing infrastructure in Guantanamo province including the highly productive and tourist destination Baracoa and the far eastern municipality of Maisi.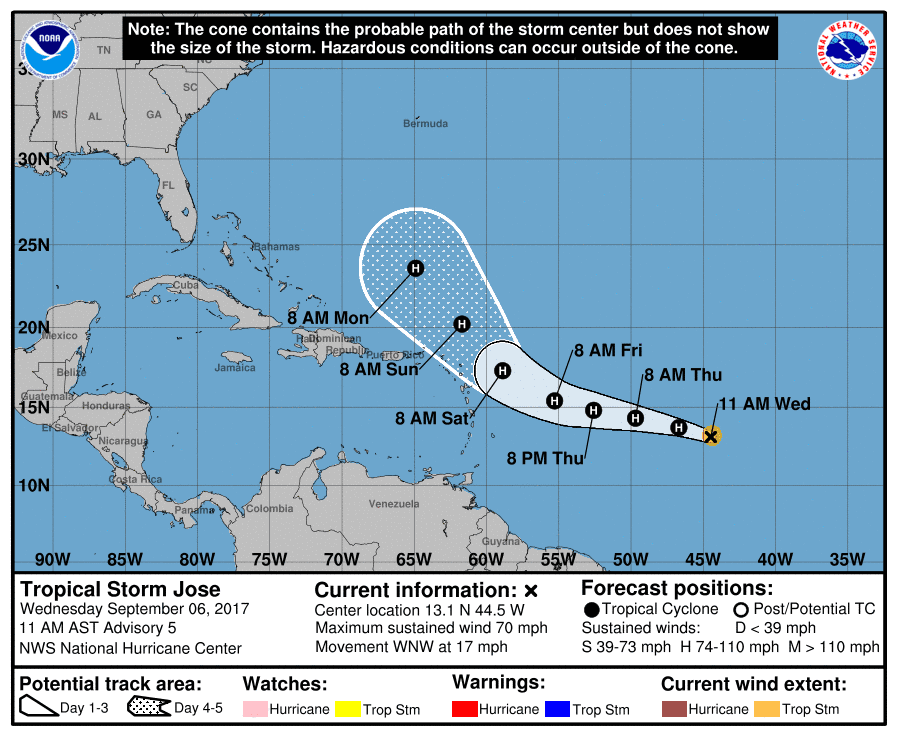 Reports are still scant on the damage caused by the passing of Irma over or near Antigua and Barbuda and other northern Leeward Islands.
It takes time after "normal" conditions are established to assess the damage and report any casualties.
Incredibly, the same islands may also face another hurricane in the coming days from what is now Tropical Storm Jose, about three days away.
Next up on the path for Hurricane Irma are the British and US Virgin Islands and then Puerto Rico, where the center of the storm is expected to pass close to San Juan, the first large city in its path.
We will keep you informed.
NOTE: The US Department of State just warned US citizens "to carefully reconsider travel to Cuba due to Hurricane Irma, a Category 5 storm that is projected to impact Cuba.  This storm may bring significant rainfall and wind that may result in life-threatening flooding, flash flooding, mudslides, and storm surge.  Disruptions to travel and services are likely throughout the country.  On September 6, the Department authorized the voluntary departure of U.S. government employees and their family members due to Hurricane Irma."