Cuba Prepares for Hurricane Irene Side Effects
By Circles Robinson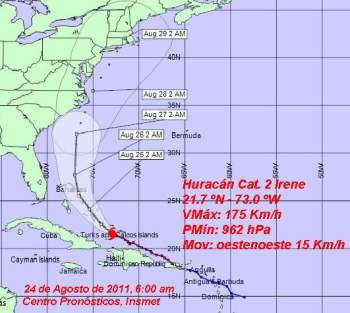 HAVANA TIMES, August 24 — Hurricane Irene intensified overnight as it churns to the northeast of Cuba, threatening the Bahamas with its 110 mph maximum sustained winds.
While Cuba is not expected to receive a direct hit from Irene the side effects of the storm are already causing light coastal flooding in Baracoa, the island's first city currently celebrating its 500th anniversary.
The Cuban Weather Service (INSMET) has alerted that rains could be intense at times in the eastern Cuban provinces of Guantánamo, Holguin and Las Tunas as Irene moves through the Eastern Bahamas on route northwest.
The Cuban forecasters say Irene will tip its course to the northwest throughout the day and strengthen even further.
Civil Defense authorities are taking measures to protect people and property in low lying areas that could be flooded.  These include tourist installations, fishing and sea transport vessels.  Local authorities throughout the region are advised to keep close watch on water levels of rivers and reservoirs.
At 6 a.m. the center of Irene was located at 120 miles (200 kilometers) northeast of Punta de Maisi, Guantanamo and 360 miles (595 kilometers) southeast of Nassau, Bahamas.  The storm was moving on a west-northwest track at 9 mph (15 kph), reported INSMET.
Irene, which is close to becoming a major hurricane, is causing concern on the Atlantic seaboard of the United States, which could receive a direct hit from the hurricane sometime this weekend, possible in North Carolina.