Cuba Prevents Entry to OAS Head Luis Almagro
To collect a prize from an opposition youth group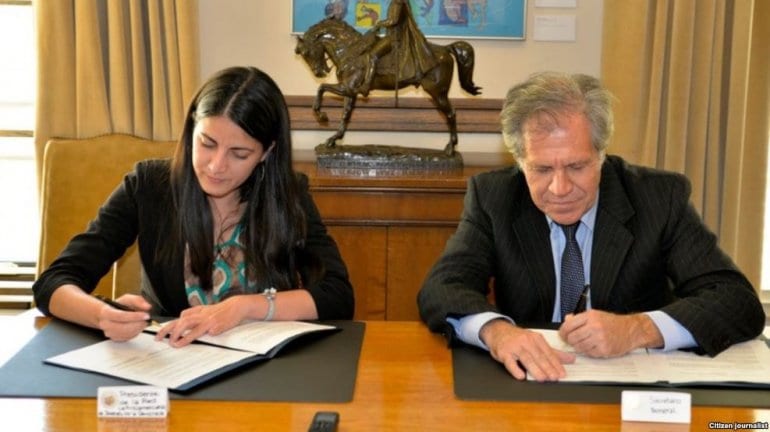 HAVANA TIMES – The Secretary General of the Organization of American States (OAS), Luis Almagro, denounced today that the Cuban authorities denied him a visa to attend the event on the island where he was to receive a prize from the hands of opposition activist Rosa Maria Paya, reported dpa news.
On Tuesday former Mexican President Felipe Calderon was denied entry. Likewise, unable to attend was, Mariana Aylwin, daughter of former Chilean President Patricio Aylwin, who was to receive a posthumous mention of honor for her father.
In a letter to Rosa Maria Paya published today, Almagro explained that the Cuban consulate in Washington denied the visa for his diplomatic passport of the Organization of American States (OAS) and also the possibility of entering with his Uruguayan passport, for which in theory he would not require a visa.
According to Almagro, an OAS official was summoned last Thursday by the Cuban consul in Washington. The official was told that the Castro government was not going to allow the Secretary General to enter, accusing him of being involved in "anti-Cuban activities" and considered the visa application "an unacceptable provocation."
"My visit to Cuba was no different from other events in Latin America organized by civil society," Almagro said on Twitter.
Almagro said he had asked Cuban authorities to review their decision, denying that his activities were anti-Cuban, but they refused to change their position.
The Latin American Youth Network for Democracy, chaired by Rosa Maria Paya, planned to award him today the Oswaldo Paya award for "Freedom and Democracy."
In October, Almagro and Paya's daughter met in Washington and signed an agreement whereby the OAS would support connecting young leaders of Latin America and the Caribbean in the defense of democracy and human rights.
Oswaldo Paya, who died in 2012, was the promoter of the "Varela Project", with which he collected signatures in 1998 for a constitutional referendum calling for political changes in Cuba.
Since 1962, Cuba is not a member of the OAS. In that year it was separated from the regional body over the confrontation with Washington. Havana criticizes the OAS as an instrument that defends the regional interests of the United States.