Cuba Readies for Tropical Storm Sandy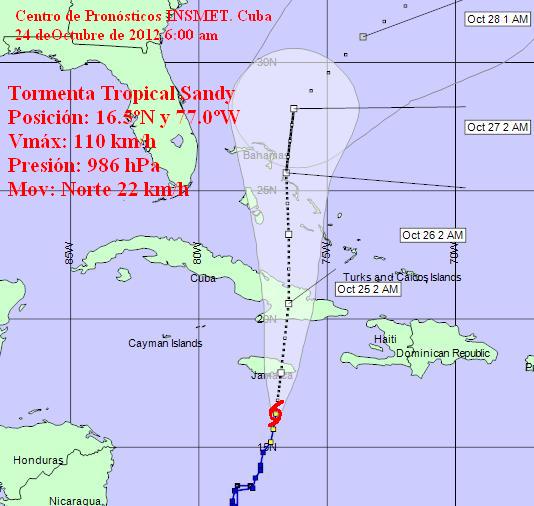 By Circles Robinson
HAVANA TIMES — Cuba's acclaimed civil defense network is in action in central and eastern Cuba on Wednesday as Tropical Storm Sandy approaches Jamaica and later in the day will begin affecting the island.

Expected to reach hurricane intensity (75 mph), Sandy was packing 70 mph winds at 6:00 a.m. this morning as it churned towards Jamaica.
The Cuban Forecast Center (INSMET) said heavy, intense rains can be expected in the eastern half of Cuba with strong winds.
Sandy is expected to reach Cuba's southern coast somewhere in Granma, Santiago de Cuba or Guantanamo provinces.
INSMET noted that the heavy rains are possible from Sancti Spiritus to Guantanamo, especially on Wednesday afternoon-evening and Thursday.
The Cuban weather experts noted that the rainfall in recent days has saturated the ground in many areas, making them more vulnerable to flooding if the rains from the storm are intense.
Sandy was moving north early Wednesday at a speed of 14 mp/h (22 kp/h).  It's center was located at 6:00 a.m. at 95 miles south of Kingston, Jamaica and 250 miles south-southwest of Santiago de Cuba.
The National Hurricane Center in Miami posted a hurricane warning for all of Jamaica and eastern Cuba as well as a tropical storm warning for Haiti and parts of the Bahamas.
INSMET will issue a new advisory at noon on Wednesday.