Cuba Rejects New Trump Policy
But says it is willing to continue dialogue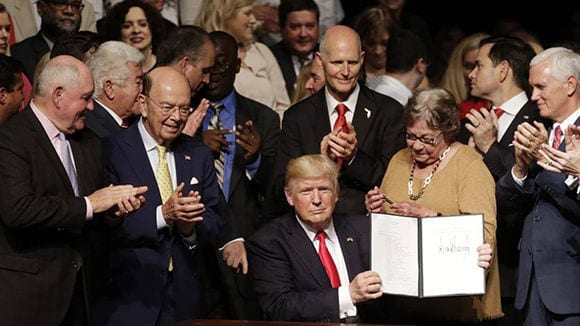 HAVANA TIMES – The Cuban government said on Friday that it considers US president Donald Trump's new policy towards the island to be a setback in relations between the two countries, although it underlined its willingness to continue a respectful dialogue, dpa news reported.
"Cuba denounces the new hardening of the blockade, which is destined to fail," said an official statement from the Cuban Government, which nevertheless repeated its "willingness to continue a respectful dialogue and cooperation on issues of mutual interest."
In a speech given Friday in Miami, Trump announced a harsher US policy towards the island, even though he won't void all of his predecessor Barack Obama's decisions.
Trump is going to restrict US citizens travel to Cuba, seeking to prevent people from going to the island as tourists, which is forbidden by law but was easily sidestepped under Obama.
Another of Trump's measures is to ban US companies from doing business with companies that belong to the Cuban Armed Forces.
"Once again, the US Government is resorting to its coercive methods of the past," the Cuban government outlined in an official statement issued on national TV.
Havana considers the new policy driven by Trump to be a "hardening of the blockade (…) which not only causes damage and deprivation to the Cuban people and constitutes an undeniable obstacle to the development of our economy, but also affects the sovereignty and interests of other countries."
The changes that Trump has announced will have an impact on the Cuban economy within three months, once the new regulations are put in place.
The official statement noted that "any strategy aimed at changing the political, economic and social system in Cuba, via pressure and coercion, is destined to fail."
"The Cuban Government repeats that it is willing to continue a respectful dialogue and to cooperate on issues of mutual interest, as well as negotiating pending bilateral agreements," underlined the statement published in Granma, Cuba's official newspaper.