Cuba Reports on Hurricane Maria, Dominica PM Pleas for Help
HAVANA TIMES – The Cuban weather service (Insmet) reported this morning that Hurricane Maria remains a highly dangerous system with maximum sustained winds of 260 km/h as it heads for the Virgin Islands and Puerto Rico.
A report from the Dominica Prime Minister indicates disaster was widespread on that island as Maria passed over it on Monday night.
At 6:00 a.m. Insmet located the center of Maria, a maximum category 5 storm on the Saffir-Simpson scale, at 60 miles west of Guadalupe and 280 miles southeast of San Juan, Puerto Rico, where it is expected to touch land sometime late Tuesday or early Wednesday.
Maria is currently on a west-northwest track moving at 9 mph. With the projected course for the hurricane moving  north once it approaches the Dominican Republic, Insmet makes no mention of any threat to Cuba at this time.
Last night Dominica PM Roosevelt Skerrit sent out a chilling message on his Facebook page indicating that his roof had blown off and that he was "at the mercy of the hurricane."  A while later he wrote that he had been rescued.
Later in the night with Dominica still under hurricane conditions as Maria moves to the northwest, Skerrit wrote: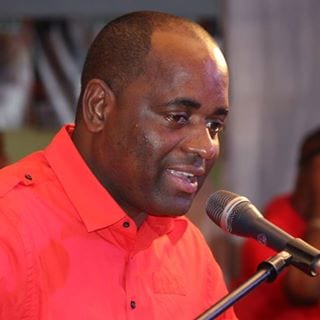 "Initial reports are of widespread devastation. So far we have lost all what money can buy and replace. My greatest fear for the morning is that we will wake to news of serious physical injury and possible deaths as a result of likely landslides triggered by persistent rains.
"So, far the winds have swept away the roofs of almost every person I have spoken to or otherwise made contact with. The roof to my own official residence was among the first to go and this apparently triggered an avalanche of torn away roofs in the city and the countryside.
"Come tomorrow morning we will hit the road, as soon as the all clear is given, in search of the injured and those trapped in the rubble.
"I am honestly not preoccupied with physical damage at this time, because it is devastating…indeed, mind boggling. My focus now is in rescuing the trapped and securing medical assistance for the injured.
"We will need help, my friend, we will need help of all kinds.
"It is too early to speak of the condition of the air and seaports, but I suspect both will be inoperable for a few days. That is why I am eager now to solicit the support of friendly nations and organisations with helicopter services, for I personally am eager to get up and get around the country to see and determine what's needed."