Cuba Reports on the Forming of Tropical Storm Irma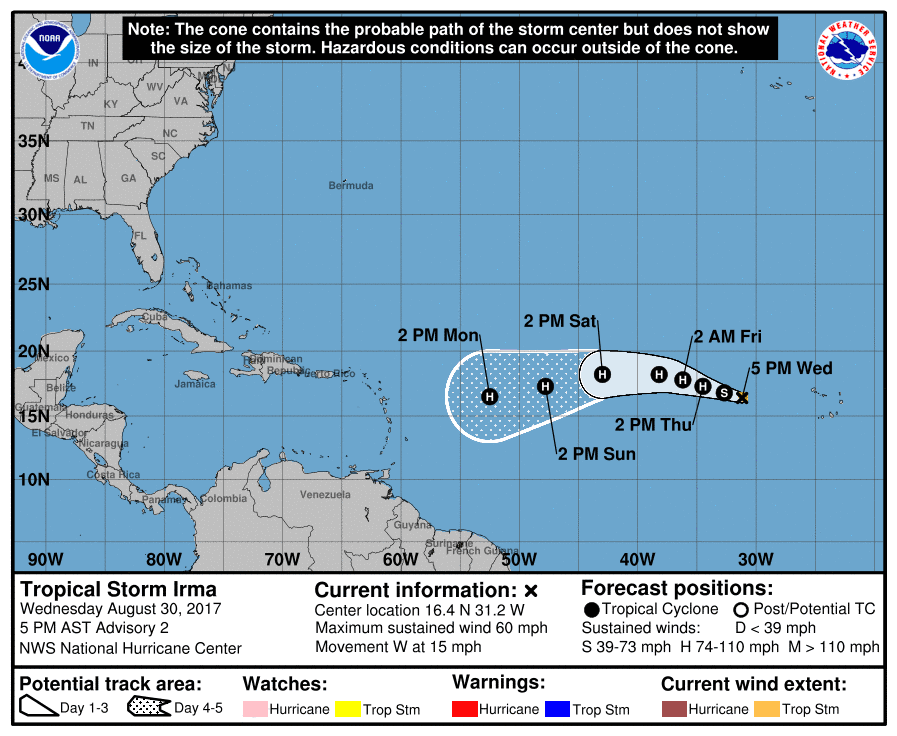 HAVANA TIMES – As Tropical Storm Harvey continues to cause flooding and other damage in Texas and Louisiana, a new tropical storm, Irma, was born today in the far eastern Atlantic, reported INSMET, the Cuban Forecast Center.
The storm, which threatens to become a hurricane this Thursday or Friday, has an initial path projected toward the eastern Caribbean, shows the cone of the National Hurricane Center in Miami.
The Cuban forecast center reports that Irma is the ninth tropical cyclone of the hurricane season.
At eleven o'clock this morning, the center of Irma was located at 16.4 degrees north latitude and 30.3 degrees west longitude, a position that places it about 675 kilometers west of the Cape Verde Islands.
It is not so normal that a tropical storm forms in the Far East Atlantic. It usually occurs when a formation moves further into the central Atlantic.
At 5:00 pm ET Tropical Storm Irma now has maximum sustained winds of 100 kilometers per hour, with upper gusts and a minimum central pressure of 1001 millibars, reports the National Hurricane Center. The system is moving west at a rate of 15 miles per hour.
In the next 12 to 24 hours it is forecast that Irma will continue on a similar course and increase its movement speed over waters of the eastern Atlantic where it could intensify, noted INSMET.