Cuba Reports on Tropical Storm Arthur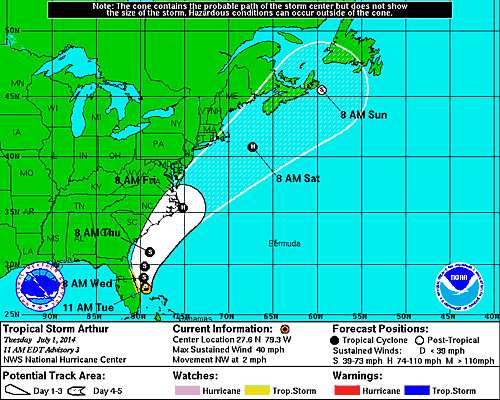 HAVANA TIMES — Tropical Storm Arthur formed off the coast of Florida on Tuesday, it is the first of the June-November hurricane season in the Caribbean, reports the Cuban Weather Service (INSMET).
By noon EST, Arthur packs 40 mph (65 kph) winds and the eye of the storm is moving at a very slow 2 mph heading north.
The National Hurricane Center in Miami says the system could become a hurricane when it approaches the Carolinas for a possible landing in the coming days. The NHC located the center of the storm at 95 miles southeast of Cape Canaveral at 11:00 a.m.
Since it formed well north of Cuba, Tropical Storm Arthur is not expected to pose any threat to the island.