Cuba Retains #1 IBAF World Ranking
After Recent 2012 WBC Qualifying Matches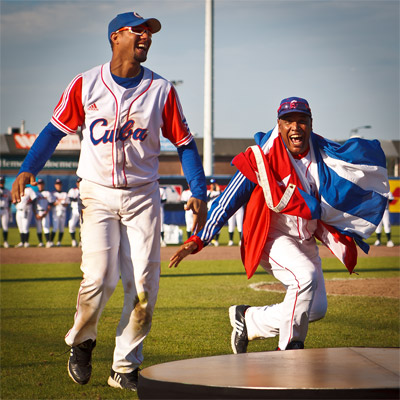 HAVANA TIMES  – In the wake of the first two World Baseball Classic Qualifying tournaments staged last month in Regensburg, Germany (won by Canada) and Jupiter, Florida (taken by Spain), the International Baseball Federation (IBAF) has now released its latest updated men's world baseball rankings.
Cuba continues to maintain its slim first-place margin of nearly 33 points over the runner-up Americans. Japan and Korea also continue to hold down the third and fourth spots, although the two Asian powers have now switched places from the 2011 poll (with Japan moving up to the third slot).
More significantly, with a strong showing in Regensburg, Canada has now dislodged 2011 IBAF World Cup champion Netherlands from a coveted number five position. Meanwhile Cuba was able to cling to its slim cushion at the top of the heap without picking up even a single 2012 point, since the Haarlem Baseball Week (won by Cuba in July) no longer factors into the current IBAF formula.
Canada has made the largest gains in the recent two polls, first winning Gold (Pan American Games) and Bronze (IBAF World Cup) medals in major tournaments during late 2011 and then posting the largest point totals of the most recent 2012 international season. The Canadians amassed 130 points in 2012 (80 for a second place finish in the U18 World Championship and 50 for winning its WBC Qualifier event in Germany); at the same time the Canadians also lost 50 points in the standings from the 2008 Olympic Qualifier (since all points earned four years or more in the past are deducted from a country's current tabulation).
Other top 2012 point scorers were Team USA (narrowing its shrinking gap behind the Cubans by picking up 100 points with a U18 championship) and Chinese Taipei (scoring 90 additional points with third place finishes in both the U15 and U18 championship events). The results of all this shuffling leave the Canadians a mere 3 points behind Korea for the overall fourth slot in the world rankings.
With a pair of remaining WBC qualifiers still on tap for this coming November, likely winners Chinese Taipei (hosting one of the events) and Panama (hosting the other) may yet advance their point totals slightly before the year is out. Panama currently trails #14 Nicaragua for fourteenth (and would thus pass their Central American rival with a victory next month in Panama City); the eighth-ranked Taiwanese, however, will not overhaul Venezuela (currently number seven) even with a WBA Qualifying title.
Spain's October victory over Israel in Jupiter bumped that country into the sixteenth slot (a climb over both China and Germany) while Israel's second-place finish in Florida resulted in the largest overall jump in the standings (the Israelis moved from number 48 all the way into a top-25 seat).
IBAF 2012 World Baseball Rankings (Top 25 Positions)
| | | | |
| --- | --- | --- | --- |
| Country | 2012 Standings | Current Points | 2011 Standings |
| Cuba | 1 | 766.01 | 1 |
| USA | 2 | 733.25 | 2 |
| Japan | 3 (up one slot) | 564.42 | 4 |
| Korea | 4 (down one slot) | 488.20 | 3 |
| Canada | 5 (up one slot) | 485.00 | 6 |
| Netherlands | 6 (down one slot) | 476.76 | 5 |
| Venezuela | 7 (up one slot) | 459.63 | 8 |
| Chinese Taipei | 8 (down one slot) | 384.79 | 7 |
| Puerto Rico | 9 | 241.73 | 9 |
| Mexico | 10 | 231.48 | 10 |
| Italy | 11 (up 2 slots) | 214.80 | 13 |
| Australia | 12 (down 1 slot) | 211.97 | 11 |
| Dominican Republic | 13 (down 1 slot) | 204.20 | 12 |
| Nicaragua | 14 | 140.01 | 14 |
| Panama | 15 | 109.74 | 15 |
| Spain | 16 (up 2 slots) | 109.51 | 18 |
| Germany | 17 | 96.83 | 17 |
| China | 18 (down 2 slots) | 79.48 | 16 |
| Great Britain | 19 (up 4 slots) | 64.69 | 23 |
| Colombia | 20 (up 6 slots) | 58.75 | 26 |
| Czech Republic | 21 (down 1 slot) | 48.16 | 20 |
| Netherlands Antilles | 22 (down 3 slots) | 47.98 | 19 |
| South Africa | 23 (up 12 slots) | 43.12 | 35 |
| Pakistan | 24 (down 3 slots) | 43.00 | 21 |
| Israel | 25 (up 23 slots) | 42.97 | 48 |
 (*) See Peter C. Bjarkman's columns in Baseballdecuba.com