Cuba Rolls Out Red Carpet for British Cruiser
By Circles Robinson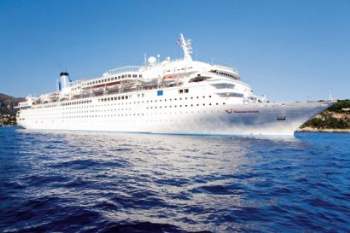 HAVANA TIMES, Jan. 5 — A policy change by Cuba's government is bringing cruiser tourism back to the Caribbean island.  On Wednesday, the nine-deck British cruise ship Thomson Dream with over 1,500 passengers pulled into Havana Harbor for a two-night stay.
Several years earlier former Cuban President Fidel Castro had put a break on cruiser visits when he declared that they brought considerable garbage while the visitors spend little cash.
The Thomson Dream guests were given red carpet treatment upon their arrival with "a salsa band, dancing schoolchildren and showgirls in bikini tops and feather headdresses" as part of the welcoming party, reported the Washington Post.
Cuban tourism official Jose Manuel Bisbe told journalists on hand that besides the deal that will bring Thomson Cruise Ships to the island, agreements with other European tour operators have also been signed.
Bisbe noted that "each passenger spends an average of $50 to $200 per day on the island," highly welcome in today's cash-strapped economy.
The Cuban News Agency reported that the visitors will attend the famous Tropicana Caberet Show, the nightly cannon shot at the old Spanish San Carlos de la Cabaña Fort, as well as travel to Viñales Valley in western Pinar del Rio province and the Zapata wetlands in Matanzas.
The Thomson Dream trip starts in Cozumel, Mexico and includes stops at Cuba, the Dominican Republic, Barbados, Curacao, Aruba and the Colombian city of Santa Marta, noted CNA.
Cruise ship visits to Cuba declined sharply in 2006 when Pullmantur Cruises, based in Spain, was bought out by Royal Caribbean Cruises headquartered in Florida. The transaction put an end to the frequent visits to Cuba as the company was prohibited under the US economic blockade of Cuba to do any business with the island.
Other cruisers with owners from Spain and Russia have also recently called at Havana Harbor.