Cuba Says Cholera Practically Contained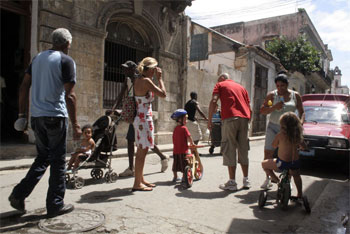 HAVANA TIMES — Sources with the Cuban health care system are saying that the recently reported outbreak of cholera in Havana is "practically contained," reportó DPA news on Saturday.
After several days of rumors among the population, on Tuesday officials admitted that the most recent outbreak of cholera on the island consisted of at least 51 cases in the capital. Last July, Cuba suffered an outbreak of the disease that left three dead and more than four-hundred people infected.
According to the Ministry of Public Health, the current cases of cholera began being recorded in Havana on January 6, especially in the Cerro neighborhood. Responding to this, authorities closed several food stands in the neighborhood, among other measures.
"We're continuing to work hard, and today it [the outbreak] is practically contained," said Dr. Manuel Santin Pena, the national director of Epidemiology of the Ministry of Public Health, in an interview with Granma newspaper.
The ministry had previously (on Tuesday) asserted that the outbreak was in its "extinction phase."
This past July, Cuba reported its first outbreak of cholera in more than a century, according to the Pan American Health Organization (PAHO). First identified in the city of Manzanillo (in Granma province), the disease then began spreading, especially across the in the east of the island.
PAHO experts have concluded that cholera most likely reached Cuba from Haiti where hundreds of Cuban doctors and health workers are stationed. An outbreak of that disease on this neighboring Caribbean island has killed thousands of people since October 2010.
The epidemic emerged months after the earthquake that devastated Haiti in January 2010. Carriers later crossed the border into the neighboring Dominican Republic. Cases of the infection have also been reported in the US state of Florida, noted DPA.