Cuba Says Internet Cable Now Operational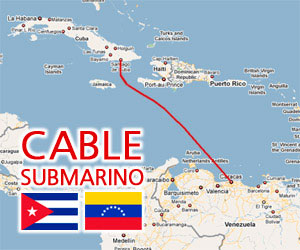 HAVANA TIMES — A statement by the Telecommunications Company of Cuba (ETECSA) reports today that the Internet cable connecting the island with Venezuela is now operational.
"The ALBA-1 fiber-optic underwater telecommunications cable linking Cuba with Venezuela and Jamaica has been operational since August 2012, initially providing service to voice traffic for international telephone calls," said the company.
The note adds that "testing of the quality of Internet traffic has been performed on the system since January 10. The same has been done on real traffic to and from Cuba in order to standardize this communication link."
Notwithstanding, ETECSA notes that after the tests are completed, this "does not mean there will be an automatic increase in opportunities for access. Investments will need to be made first in the internal telecommunications infrastructure as well as an increase in foreign exchange resources."
The Cuban government has thereby ended its official silence on the issue while closing the door to immediate changes in internet service on the island.