Cuba Seeks "Revolutionary" Air Traffic Controllers
By Daniel Benitez  (Cafe Fuerte)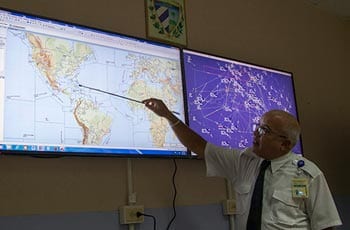 HAVANA TIMES — With flights to Cuba on the rise, the Cuban Aiports and Aviation Services company has launched a call to train 50 air traffic controllers, who will earn a basic monthly salary of 455 Cuban pesos (CUP), about 18 convertible pesos (equivalent to 16 USD).
The advertisement published by the president of the Cuban Aviation Corporation, Ramon Martinez Echavarria, explains that after a 12 month course, those chosen can earn 100 CUP (5 USD) more for their skills, 105 CUP for learning and 44 CUC in bonuses, which will raise their total income to about 70.4 CUC, which would be the equivalent to about 62 US dollars per month.
With this salary, being an air traffic controller in Cuba would be one of the best paid jobs in a country where the average monthly wage is about 28 USD, although if you take into account the high level of stress and responsibility that this job implies, it's still nowhere enough.
Requirements needed
Amongst the nine requirements you need in order to become a candidate for this "super salary" you have to be between 20 and 30 years old, a high school graduate or equivalent, prove your English skills before an examining board, pass different health and mental exams, serve your military service, in the case of men, and an evaluation of the "revolutionary nature" of the applicant.
Points 7 and 9 of the requirements are very clear: the applicant must pass a socio-political interview and "hold a social and political posture in line with the Revolution's principles."
According to the government website Cubadebate, the call for air traffic controllers has come about because of an organic update of staff, as worker shifts are 6 hours long and there are 800 flights a day.
Out of those who will be chosen at the end of the training, five will work in Santa Clara, four in Santiago de Cuba, three in Varadero, three in Cayo Coco, three in Havana and 25 in the AREA Control Center. The rest of them will be sent to the Isle of Youth, Cienfuegos, Camaguey, Guantanamo and Baracoa.
Flights on the rise
The unusual ad offering a paid training course, has come to light just weeks before the long awaited direct flights between the US and Cuba begin and the resulting increase in airport operations from autumn onwards.
The imminent launch of these direct flights from the US to Cuba has created doubts among US aviation officials and federal legislators about Cuban airports' capacity for security and technical equipment, forcing a response from the Security Department at Cuba's Civil Aviation Institute (IACC). The US Transportation Security Administration (TSA) has visited Cuban airports and came to an agreement in July with Cuban authorities about airport security.
In Cuba, comparisons are frequently being made between its citizens and the US. In this case, the fact that a US air traffic controller earns an average of $122,950 USD per year in 2015, which is $59.11 USD per hour, according to the US Bureau of Labor Statistics, isn't mentioned anywhere.
That's to say, for doing the same job in the US, an air traffic controller earns in an hour what a Cuban would in a month.
However, US air traffic controllers aren't even the best paid in the world. In 2010, the 10 Spanish air traffic controllers who earned the most were pocketing nearly a million euros, while Irish controllers were making an average of 160,000 euros per year.