Cuba Suddenly on Alert for New Tropical Storm
By Circles Robinson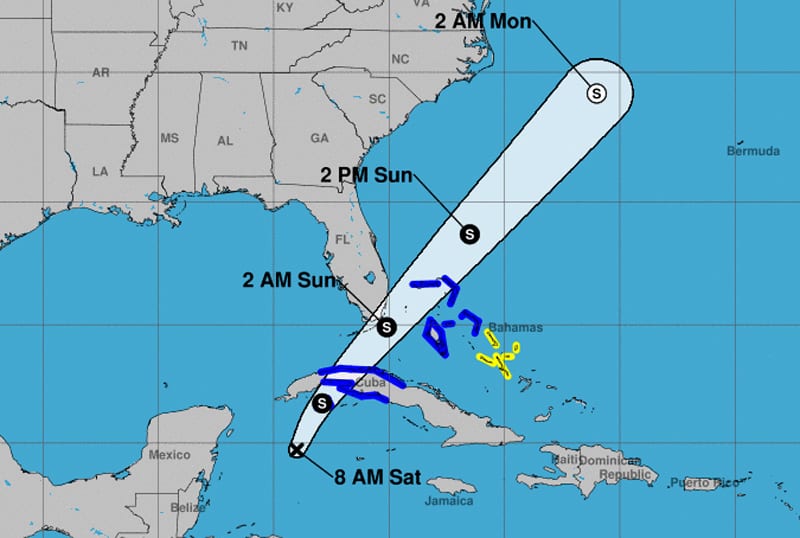 HAVANA TIMES – A tropical depression, mostly likely soon to be tropical storm, formed today north of Honduras and its initial projected track has it crossing western Cuba sometime on Saturday.
The National Hurricane Center (NHC) in Miami declared a Tropical Storm warning for the provinces of Havana, Artemisa, Mayabeque, Cienfuegos, Matanzas, Villa Clara plus the Isle of Youth.
When and if it becomes a Tropical Storm, the system would take on the name of Philippe. It currently packs 40 mph winds and is moving on a north-northwest track at 6 mph, expected to increase later today and Saturday.
Also on tropical storm warning are the northwestern Bahamas while a tropical storm watch is in effect for the central Bahamas.
The hurricane season has been especially hard on the Caribbean. The storm that caused the most damage in Cuba was Irma, affecting most of the island's provinces from east to west.
The NHC sees good conditions for a strengthening of the weather system whose center was located at 5 PM EDT at 490 miles south-southwest of the Isle of Youth.
According to the NHC the storm could bring 4 to 8 inches of rain to western and central Cuba and the northwestern Bahamas, producing life threatening flash floods and mudslides.
Another tropical storm, Selma, also formed on Friday off the western coast of Central America.  It is expected to reach land in El Salvador on Saturday.