Cuba Supported at UN in Resolution Opposing the US Embargo
By Circles Robinson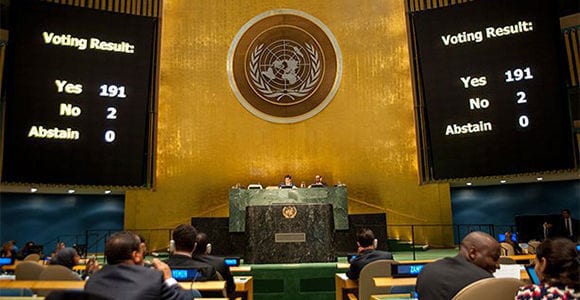 HAVANA TIMES – Every year since 1992 Cuba has presented a resolution to the UN General Assembly calling on the United States to end its half-century-plus embargo on the island. Today was this year's vote and the final tally was 191 countries supporting the Cuban motion and 2 (the US and Israel) opposing.
The resolution is non-binding and the US has totally ignored it maintaining it has the sovereign right to determine its own policy regarding Cuba.
US ambassador to the United Nations, Nikki Haley, belittled the vote calling it "political theater".
Last year, the vote was without opposition as the US and its tag-along, Israel, abstained due to the policy of rapprochement put in place by Barrack Obama, who was unable to end the embargo because it can only take place by a vote of Congress.
According to Cuba "the embargo constitutes the greatest obstacle to the economic and social , development of the country."  Foreign Minister Bruno Rodriguez said it not only affects Cuba's normal economic and trade relations with the United States "but also with the rest of the world".
After an easing of tensions under Obama, today's vote comes when relations are quickly deteriorating as the US blames Cuba for illnesses suffered over the last year by its diplomatic personnel in Havana.
The US embassy, now with a skeleton staff, has cut back most of its services and Cubans are advised to go in person to Bogota, Colombia to request an immigrant or non-immigrant visa to travel to the United States.
Likewise, 15 officers at the Cuban embassy in Washington were ejected from the country.
In an effort to deal a blow to Cuba's tourism industry, the Trump administration has also warned US citizens not to travel to the Island claiming their health may be in danger.