Cuba Suspends Issuance of Passports Due to System Overload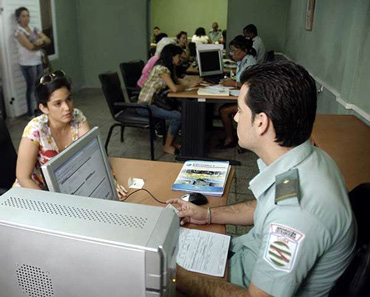 HAVANA TIMES — If you are in a hurry to renew your passport or identity card in Cuba take a deep breath.
The Cuban government unexpectedly announced Wednesday the temporary suspension of the issuance of identity cards and passports claiming "technological difficulties" because of "electrical problems" according to the Ministry of Interior's ID and Immigration office.
The information was read on the National Television News and distributed to the official media.
Passport services have been temporarily interrupted since May 9.
"From that moment the specialists involved in the recovery [of the service] have remained continuously working to reverse the situation," the statement said, noting it seeks to resume service in the shortest time possible.
System Saturation
An employee of an Identity Card office in Havana told Café Fuerte on Wednesday they expected to see the situation stabilized in the course of next week.
The source said that in recent weeks there has been a "system saturation" due to the volume of requests from travelers coming from the United States, who were renewing their passports in Cuba faced with the impossibility to validate them at the Cuban Interests Section in Washington.
MININT officials recommended that, for the moment, interested persons refrain from going to the offices where these procedures are performed until an announcement is made in the media about the resumption of services.
The problem with the issuance of official documents in Cuba comes just 24 hours after the Cuban government announced the resumption of renewing passports at the Cuban Interests Section in Washington [through authorized travel agencies], a process that was frozen since February over the inability to find a US-based bank willing to handle the Cuban accounts.
In fact, when Cuba announced the restoration of their consular functions in Washington, back home in Havana the internal system of the island was collapsed.