Cuba Tent Hospital Welcomes US MDs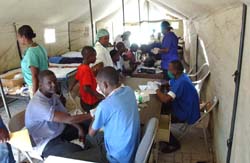 By Circles Robinson
HAVANA TIMES, Feb. 5 — Seven young US doctors who studied medicine on scholarships in Havana arrived at the Cuban field hospital in Croaix des Buquet, Haiti yesterday to lend a hand in the treating of Haiti's earthquake victims.
Representing the group from New York and California, Elsie Walter told Granma daily: "There were a lot of us [graduates from the Latin American Medical School in Cuba] who wanted to come but due to responsibilities back home only seven could go now, but others will make it later.  We know that the Cuban medical brigade is here for the long haul."
Meanwhile, the Cubans are in the process of setting up their fifth emergency tent facility in and around the Haitian capital.  The new hospital is expected to open soon in Les Cayes, a port city 15 miles southwest of the capital Port au Prince.
The other four hospitals are in Croix des Buquet, Carrefour, Leogane and Jacmel.
Over 400 Cuban doctors are working in Haiti, prioritizing the treatment of earthquake victims as well as maintaining services in other parts of the country.
Cuba has had hundreds of doctors on permanent service in Haiti for a decade. It also provides scholarships to Haitians to study at Cuba's Latin American Medical School.