Cuba to Closely Watch Hurricane Rina
by Circles Robinson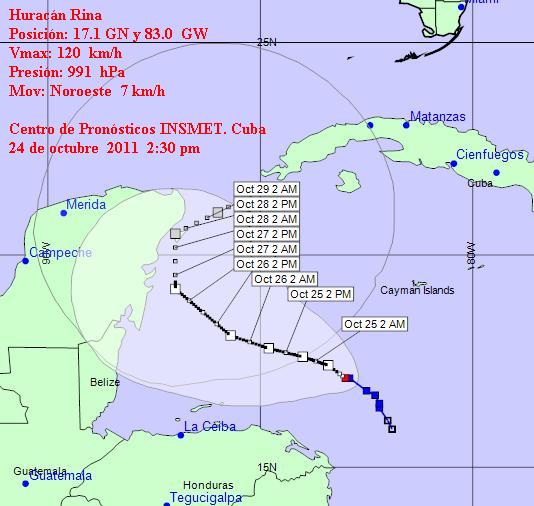 HAVANA TIMES, Oct. 24 — Hurricane Rina has several countries uneasy in the western Caribbean as it gains rapidly in intensity while heading for a possible landing near Cancun, Mexico.
Belize, the Mexican Yucatan, western Cuba and the US Gulf Coast will be closely watching the development of the storm.
The current projection cones of the Cuban Weather Service (INSMET) and the National Hurricane Center (NHC) in Miami show Rina taking a possible turn northeast towards western Cuba after a landing in the Mexican Yucatan on Thursday or Friday.
At 2 p.m. Cuban time (EDT), INSMET located the center of Hurricane Rina at 192 miles (310 kilometers) southwest of Grand Cayman Island and 360 miles (580 kilometers) east of Chetumel, Mexico.
The storm was moving slowing northwest at 4.5 mph (7 kms.). The maximum sustained winds were clocked at 75 mph (120 kph).
The Cuban weather experts said that Rina would gain in intensity and tilt west/northwest during the next 24 to 48 hours.
Meanwhile the NHC now predicts that Hurricane Rina will reach major hurricane strength (over 110 mph) by sometime Tuesday or early Wednesday.