Cuba Tops 11,000 Doctors in Brazil
New arrival of 4,000 more Cuban physicians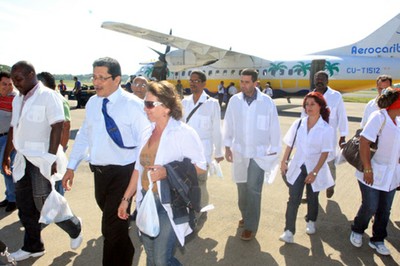 HAVANA TIMES — A new contingent of 4,000 Cuban doctors is currently arriving in Brazil adding to the 7,400 already working in the "More Doctors" program of President Dilma Rousseff, reported EFE.
Back in January the Brazilian ambassador in Havana had announced his country's intention to raise the number of Cuban doctors in the program to 11,000.
The newly arrived Cuban physicians are awaited in the Brazilian cities of Sao Paulo, Fortaleza, Porto Alegre, Guaraparí, Gravatá and Brasilia, states a press release from the Brazilian Ministry of Health.
The authorities said that before the Cubans enter the field they will first undergo a three month adaptation course as well as face tests of their medical knowledge and command of the Portuguese language.
The Brazilian health ministry said the number of Cubans in the program will now reach 11,400 of the total 14,900, the balance including just over a thousand Brazilian doctors and those recruited from other countries such as Portugal and Spain.
When the new doctors enter into service, a population of 51 million people will be receiving the benefits of the More Doctors program, the figure is currently 44.8 million, noted EFE.