Cuba TV Analyst Taladrid in Miami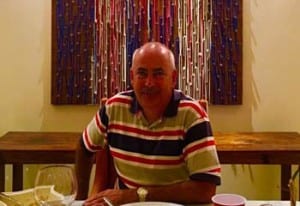 HAVANA TIMES — TV analyst Reinaldo Taladrid, one of Cuba's fiercest critics and voices against exiles in Miami and Cuban American politicians, is currently in… Miami.
Taladrid's visit to a house in Coral Gables was reported on Tuesday on social media, accompanied by a photo of him.
"With my great friend Taladrid, who is making his own judgements about my work here in Miami of all places… Who would've thought?," wrote artist Michel Mirabal, who resides in Cuba and is a frequent visitor to the south of Florida.
Mirabal didn't specify whether the reporter was on holiday or why exactly he was visiting the United States. Since late-May, a landslide number of Cuban academics, researchers, writers, journalists and intellectual personalities have gone to the US in order to take part in the 34th International Congress of the Latin American Studies Association (LASA), which ended last Monday in New York.
Cristina Escobar, one of Cuba TV's youngest faces in official journalism, was amongst the reporters present at LASA.
Journey into the Unknown
Graduating in Law from the University of Havana where he wrote his thesis on US power groups, Taladrid never worked as a lawyer and instead focused on journalism.  His family owned Havana's famous Tropicana Cabaret, which was opened to the public in 1939.
His ties to Cuba's DGI intelligence service, which belongs to the Ministry of the Interior, go back to his university days.  He was the director of Cubavision Internacional and since 1997, has served as the head of the program "Journey into the Unknown", where he presents reports from international TV channels.
In December 1999, Cuba TV created "The Roundtable" on Fidel Castro's orders and Taladrid became one of its founding panelists.
Since then, he has regularly criticized Cuban exiles as being "the mafia of Miami" and of Hispanic media platforms in the south of Florida.
Today, he still frequents the Roundtable to share his comments on international events and what's going on in US politics.   Over the last few months, he's been giving us his predictions about the battle between Republican and Democrat candidates for the White House.