Cuban Doctor Back Home after Beating Ebola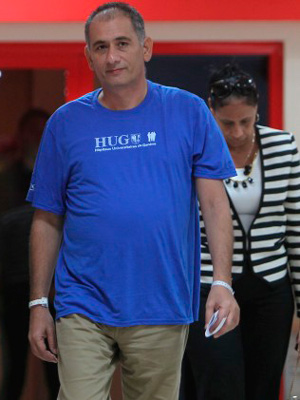 HAVANA TIMES — The Cuban doctor who recovered from Ebola after contracting it in Sierra Leone returned to the island on Saturday, reported dpa news.
Felix Baez, the first known Latin American to have been infected with Ebola, was discharged early today in Geneva, where he was taken for treatment after his infection was confirmed in Africa in mid-November.
Baez told the press at Havana airport that he is "very pleased" to be home in his country and "very grateful to all those who were concerned for me from the beginning."
The doctor, one of 165 Cubans fighting against Ebola in Sierra Leone, also said he wants to return to Africa to continue the task.
"I would like to confirm once again my commitment to my colleagues who are there in Sierra Leone, with the Revolution and the Communist Party of Cuba. I want to return to Sierra Leone and finish what I started," he told Prensa Latina. Baez was received at the airport by Cuban Health Minister Roberto Morales.
The Geneva University Hospital had said Friday that Baez had overcome Ebola and would be released soon. The "testing has confirmed the disappearance of the virus in his body fluids," the Ministry of Public Health in Havana said in a statement.
The doctor contracted the disease in mid-November and days later was transferred to Switzerland under an agreement between Cuba and the World Health Organization (WHO) to treat Cuban health personnel who could become sick with Ebola in West Africa.
Cuba has been at the forefront of the international fight against Ebola by sending a total of 256 doctors and other health workers to the three countries most affected by the epidemic, which has killed at least 6,187 people, according to the latest figures from the WHO.
In addition to the 165 aid workers in Sierra Leone, 91 Cubans are working in Liberia and Guinea since mid-October. WHO currently estimates the number of infections in the three African countries at 17,517, considered the worst outbreak of Ebola in history.
Cover image: Dr. Felix Baez with his wife and son.  Photo: Ismael Francisco/cubadebate.cu