Cuban Doctors Threatened in Venezuela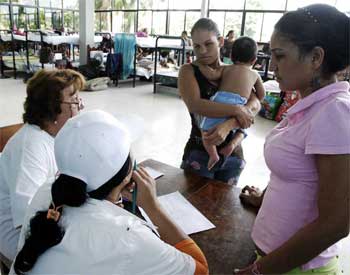 HAVANA TIMES — After returning to work following Sunday's presidential elections, the Cuban doctors in Venezuela had to return to their homes on Monday due to the instability that has taken hold in the South American country since Nicolas Maduro was pronounced the winner by a relatively small margin.
According to the site redsop.org, anti-Chavez protesters attacked on Monday the Integral Diagnostic Center (CDI) of Piedra Azul, located in Chacao, Miranda, where ten Cuban doctors provide medical services..
Banging pans, and holding banners for opposition candidate Henrique Capriles, the protestors chanted "Cubans out". The Capriles' supporters arrived at the CDI about 4:30 pm demanding the eviction of the Cuban doctors.
A CDI worker said the group of protesters threw a Molotov cocktail at the Rehabilitation Center, in an area where fortunately there were no patients or medical personnel.
Furthermore, information provided to Havana Times via telephone by a collaborator in Caracas, said that opposition members have surrounded a dormitory where members of the Cuban medical brigade are housed.
The Cuban media has not confirmed this news, nor have they reported on the state of the large medical mission in that country, where more than 30,000 Cubans serve.
Capriles, who lost the election by a narrow margin of 50.66% to 49.07%, has said he will not recognize the victory of Nicolás Maduro until there is a recount "vote by vote".
Maduro, meanwhile, has alerted the population that Capriles and his followers are trying to provoke a type of coup with their violent protests.
The National Electoral Council proclaimed Maduro the winner on Monday and denied the request for a recount.