Cuban Films and Documentaries in the Havana Film Festival
by Irina Echarry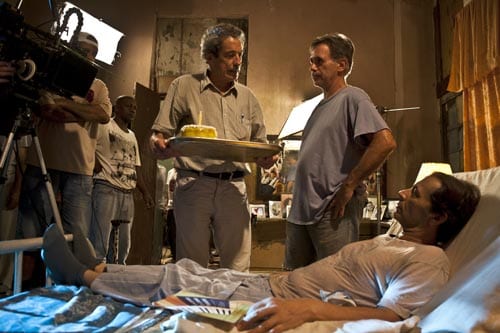 HAVANA TIMES – It's just a few days now until the 38th edition of Havana´s Festival of New Latin American Film kicks off, the country's most important film festival (Dec. 8-18). The festival is highly popular among the Havana population and the presentations are very inexpensive for them.
Eighteen feature films, 22 short and medium-length films, 26 documentaries and 27 animated films will take part in the official competition. We will also get to see showings of numerous German and Spanish screenings, experimental films, and others from Asia, Europe, the US and Africa.
Five films will represent Cuba in the competition. Three of them will participate in the fiction feature film category.
Ultimos dias en La Habana, (The last days in Havana) the latest production from Fernando Perez, set in modern-day Havana, is an ode to friendship and solidarity. The relationship between two friends – played by Jorge Martinez and Patricio Wood – is at the heart of the plot.
Ya no es antes, (It's not like before) a film by Lester Hamlet, a film interpretation of the theater piece "Weekend en Bahia", talks about promises, love and the reencounter of two old lovers. The film develops in a room and with only two characters.
Sharing Stella, is the latest film from Enrique Alvarez who also acts on this occasion. The film portrays a director's search to find the leading actress of his upcoming adaptation of the theater play Un tranvía llamado deseo (A streetcar named desire).
Esteban, from Jonal Cosculluela, which has already been shown on the Cuban film circuit and has already won over the critics, and El techo, (The ceiling) by Patricia Ramos, are the other two films competing in the Debut category.
Santa y Andres, was a film that many people were hoping to see, its director Carlos Lechuga had already expressed his desire to present this film in Cuba at this Festival. However, it seems that the Cuban Film Institute (ICAIC) decided to omit it, and the film will not be able to compete or be shown on the big screen. The power of censorship is still in full force: a peasant woman who spies on a gay writer in the hills in the Cuban east, in the mid-1980s; this is something that a Cuban audience apparently still shouldn't see.
Cuban documentaries will be highly sought-out by film lovers. This year, we will see another entry from Marcel Beltran, Manos de padre, (Father's hands) which is about the choices we make in life and how these can influence our happiness.
Heroe de culto, (Cult hero) won great acclaim at its previous screening at the young film-makers festival. The film's director, Ernesto Sanchez, questions the descent of Marti's image into the drudgery of everyday life, which is repeated to death today in plastic busts, a simple object which removes us from his legacy.
As well as a documentary about the poet Severo Sarduy, we can also enjoy a documentary made by Gloria Rolando: Dialogo con mi abuela (Dialogue with my grandmother). Scenes from the personal life of Gloria's family who come together to also tell us something about a part of Cuba's social history. As always, Rolando digs deep into racial, gender-related and historic issues.
Forming part of the Special Presentation category, the long-awaited film Vientos de la Habana will be shown, a film focusing on Mario Conde, the main character of many of Leonardo Padura's novels. Played by Jorge Perugorria, Mario Conde comes to life on the big screen and travels through a Havana full of lights, shadows and many surprises.
And for viewers who are nostalgic for and lovers of good Cuban film from previous decades, the new category Restored Classics will give them the opportunity to enjoy films by Tomas Gutierrez Alea: Los sobrevivientes (The survivors), Memorias del subdesarrollo (Memories of underdevelopment) and Una pelea cubana contra los demonios (A Cuban fight against the demons); and from Pastor Vega, Retrato de Teresa (Portrait of Teresa).