Cuban Five: Fernando Gonzalez Arrives in Cuba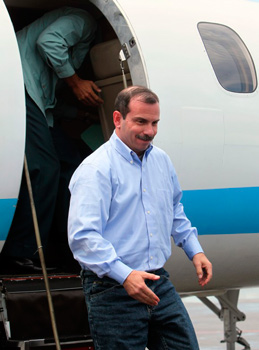 HAVANA TIMES — Former Cuban intelligence agent Fernando González arrived in Havana on Friday, one day after being released by US authorities after more than 15 years in prison, reported dpa news.
Gonzalez, one of the "Cuban Five" arrested in 1998 and sentenced for conspiracy to commit espionage to long prison terms in the United States, came to the island around noon, according to the official Granma website.
Gonzalez, 50, declared a "hero" by the Cuban State along with his four companions, was received at the airport by his mother.  He is expected to make a public appearance later, although no time was given.
Upon his release on Thursday from his Safford, Arizona prison, the former agent was handed over to immigration authorities for deportation to Cuba.
The Cuban Five were sentenced in 2001 to long prison terms after a prolonged trial. One of them, Gerardo Hernandez received a double life sentence for the added charge of conspiracy to commit murder.
Cuba has always maintained that the agents of the Cuban intelligence's "Wasp Network" were operating in the US to thwart radical Cuban exile attacks against the island.
René González was the first of the Cuban Five to be released. He completed his prison sentence in October 2011 and after a parole period was allowed to return to live in Cuba since May of last year.
The case of the Cuban Five is one of the thorniest issues in the difficult relations between Washington and Havana.
Another is the case of Alan Gross, a highly paid US operative who was sentenced to 15 years in Cuba for endangering the island's national security.
Gross was working for Development Alternatives Inc., a US-AID contractor.  When arrested he claimed that his illegal activity was part of a humanitarian mission.