Cuban Gov. to Allow Citizens to Travel by Sea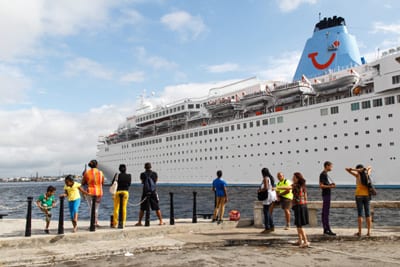 HAVANA TIMES — The Castro government announced today it was lifting the longstanding prohibition on anyone born in Cuba from traveling by sea. The measure will allow Cubans to hire out on merchant ships and travel on cruisers. The change takes effect on April 26th.
Carnival Corporation had first threatened to postpone its planned reopening of a cruise line from Miami to Havana at the beginning of May.  The company was facing legal problems in the United States if it refused to sell tickets to Cuban Americans wanting to travel on its ships.
Apparently the weight of the Cuban government's need for hard currency finally led to the change in policy.
Carnival Corporation was elated with the news and is ready for its inaugural voyage to Cuba on May 1, 2016, the same day that the government holds its annual labor rally in the Plaza of the Revolution.
The company stated in its news release, "Last week, in anticipation of this positive outcome, Carnival Corporation announced its new Fathom brand was accepting bookings to Cuba from all travelers, including individuals born in Cuba. Fathom's 704-passenger Adonia luxury cruise ship will begin sailing to Cuba every other week, marking the first time in over 50 years that a cruise ship has been able to sail from the U.S. to Cuba, as well as the first time in decades that Cuban-born individuals will be able to sail to and from Cuba."
The price for the seven-day itineraries to Cuba "start at $1,800 per person, excluding Cuban visas, taxes, fees and port expenses and include all meals on the ship, onboard experiences and several on-the ground activities." The company said that prices will vary by season.