Cuban Grafitti Artist El Sexto Released From Prison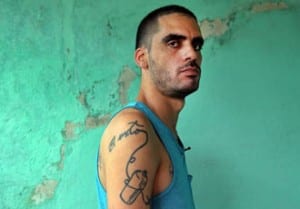 HAVANA TIMES — Cuban graffiti artist Daniel Maldonado, better known as El Sexto ("The Sixth"), was released from prison on Tuesday morning, after 10 months of confinement and an intense international campaign on his behalf.
El Sexto had been confined in the Valle Grande prison, in Havana's neighborhood of La Lisa, since Christmas Day last year, without any formal conviction. He recently carried out a hunger strike and was declared a prisoner of conscience by Amnesty International. Following his release, Maldonado returned to his home in the neighborhood of Arroyo Arenas.
Human Rights Foundation granted him the 2015 Vaclav Havel award for his creative, dissident activities.
The 32-year-old artist was arrested while heading to Parque Central in Havana, where he had planned a performance involving two pigs with the names of Fidel and Raul painted on their bodies.
The date of his release – October 20 – coincides with Cuba's National Culture Day on the official calendar of festivities.
Hunger Strike
His mother, Maria Victoria Maldonado, and representatives of Cuba's dissident organizations, mobilized on the island to try and save the life of El Sexto, who went on a 24-day hunger strike in September to protest his incarceration. He had not stood trial nor had he been presented with any criminal charges, though he was told he would be tried for "serious disruption of the peace."
Following his hunger strike, which came to an end on October 1, authorities promised to release him within 15 days. When the said term ended and no action was taken, El Sexto resumed his hunger strike on Friday of last week.
While still in prison, artist Tania Bruguera wrote on his behalf in a letter addressed to UN Secretary General Ban Ki-moon, asking that he intervene. Other renowned artistic figures abroad, such as painter Tomas Sanchez, also demanded his immediate release.
Maldonado is known for artwork that is critical of the Cuban government. He has tattoos of the late dissidents Laura Pollan and Oswaldo Paya Sardiñas.