Cuban MD Who Recovered from Ebola Returns to Sierra Leone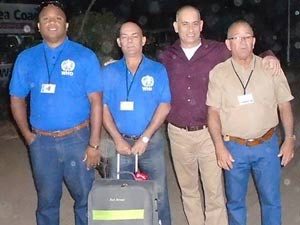 HAVANA TIMES — Cuban medical doctor Felix Baez Sarria has kept his promise and returned to Africa to rejoin the battle against the Ebola outbreak.
Baez, who recovered from Ebola after undergoing specialized treatment in Switzerland, has returned to Sierra Leone to continue combatting the deadly outbreak next to his colleagues, Pichy Vigil Fonseca, member of the Cuban medical contingent in Africa, reported Wednesday.
Two photos of Baez next to other medical doctors in Porto Loko, Sierra Leone, were published in Vigil Fonseca's Facebook page on January 13. Apparently, both pictures were taken during the first meeting with the medical team Baez took part in after arriving in the country. No additional information about his trip or arrival date was offered.
The 43-year-old Baez had returned to Cuba on December 6, 2014, after being discharged from the Geneva University Hospital, where he was treated and cured.
His first declaration upon arriving in Havana was to ratify his "commitment towards the revolution and the Communist Party" and that he was determined to return to the medical mission.
Finishing What He Started
"I'm going back to Sierra Leone to finish what I started," he said during a gathering with journalists at Havana's Jose Marti International Airport. And he did.
Baez contracted Ebola in Sierra Leone on November 16 and was urgently relocated to Geneva five days later, suffering from severe gastrointestinal and respiratory problems and a case of severe diarrhea that forced doctors to administer 12 liters of IV fluids a day. At the Geneva University Hospital, he was treated with two experimental drugs (ZMab and Favipiravir), cutting-edge pharmaceuticals that are proving efficacious in the treatment of the disease.
The intensive treatment in Geneva, administered by a team of 40 to 50 doctors, brought about Baez' gradual and ostensible improvement. The cost of the treatment was covered by the World Health Organization (WHO).
Baez is a specialist in internal medicine employed by Havana's Carlos J. Finlay Military Hospital. He traveled to Sierra Leone for the first time on October 2, 2014, as part of the Henry Reeve International Brigade, dispatched by Cuba in coordination with the WHO, to treat patients infected with the Ebola virus.
Of the 256 medical professionals sent to Africa to combat Ebola, 165 were deployed in Sierra Leone.