Cuban Students against Terrorism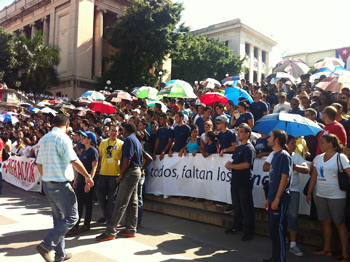 Luis Rondon Paz
HAVANA TIMES — The steps at the University of Havana and the surrounding area were filled with students from different grade levels on Tuesday September 30.
At the end of San Lazaro Street and only meters from the university steps was a small stage. One student read a speech reiterating the Cuban government's call for justice and against terrorism and demanding the US release the remaining three prisoners (of the Cuban Five) held for over 16 years in that country.
Then the crowd walked to the malecon sea wall and then proceeded to the Anti-Imperialist Plaza located facing the US Interests Section. Here are some pictures.
Click on the thumbnails below to view all the photos in this gallery. On your PC or laptop, you can use the directional arrows on the keyboard to move within the gallery. On cell phones use the keys on the screen.