Cubans Must Now Go to Colombia to Apply to Immigrate to the USA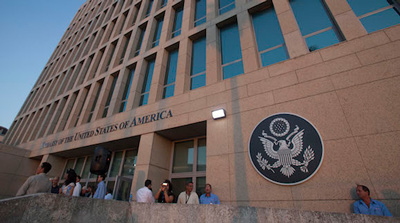 HAVANA TIMES – As if it were a simple matter, US diplomatic sources said today that Cubans who want to immigrate to the United States, often under family reunification, will have to apply for a visa at that country's embassy in Colombia.
"Following the suspension of visa services at the US Embassy in Havana, the State Department decided that the Embassy in Bogota, Colombia, will be responsible for dealing with requests for immigration visas for residents of Cuba," said a statement from the US Embassy in Havana.
The decision is the result of Washington pulling out the majority of its diplomatic personnel stationed in Havana after denouncing alleged "sonic attacks" against its personnel in Cuba.
Although Washington does not blame the Cuban government for the attacks, it does hold it accountable for failing to adequately protect its diplomats on the island.
The scarce personnel that remained on the island will focus on basic diplomatic duties and consular attention to US citizens visiting Cuba.
Diplomatic sources said that so far no dates have been set for the first appointments and people who already have the steps initiated will be informed directly of the steps to follow.
"If the National Visa Center had not yet scheduled its appointment for the embassy in Havana, it will do so directly for that of Bogota," said a statement from the US embassy in Cuba.
Thus, Cubans who want to apply for a migratory visa must travel to Colombia to do the process.
Non-migratory visas, such as business or tourism, may be requested personally in any diplomatic delegation of the United States in third countries.
The only non-migratory visas to be managed in Havana will be diplomatic, official and emergency cases for health reasons.
Under a migration agreement between the two countries, since 1994 the United States agreed to grant Cubans 20,000 annual immigrant visas, which will now be very difficult to meet due to the lack of consular staff in Havana.