Cubans Receive "Symbolic Bills" for Medical Services
By Fabian Flores  (Cafe Fuerte)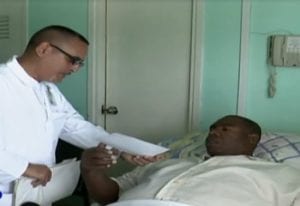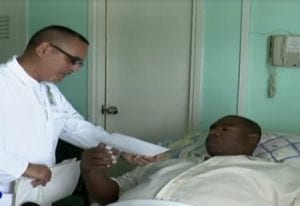 HAVANA TIMES — For a few days now, Cuban patients who are seen at medical institutions in Havana have begun to receive an unprecedented bill with the cost of the medical services they've received.
The Public Health Ministry (MINSAP) says that giving patients a "symbolic bill" is part of a program that is being developed across the country to make patients and medical institutions aware of how much these services cost, and has denied that there are plans in the works to begin charging Cuban citizens for health services.
"It isn't our intention to start charging for services… Neither the Public Health Ministry or the Leadership of our country have ever thought about doing this.  It's only to make people aware of the cost of the services that we offer today, how we provide them, what resources the Public Health Ministry and country has to spend in order to provide these services," Miosotis Moreno, MINSAP's director of Economy and Planning, said in a news report which was broadcast last Thursday on Cuban Television.
Awareness and economic culture
The news report pointed out that "in search of awareness and economic culture", flyers have been updated across the country which now include a list of medical and dentistry services and their respective prices.
These leaflets are headed with the motto "Your healthcare is free… but it costs", and are being placed in the entrances of medical centers and other public places for some months now.
"The majority of Cubans have been born with the Revolution and so we never worry about how much a surgical operation, a clinical analysis or an ultrasound might cost," the announcer from the government TV news show pointed out in her report.
Patients, doctors and polyclinic managers who support the measure were all interviewed in the report.
"This allows institutions to also see what we were investing and forces us to keep up a bit more with how much these services cost, something which hasn't been given the importance it deserves for a long time," Dr. Miguel Angel Martinez, a surgeon, said.
For better service
The director of the Polyclinic in Vedado, Dr. Ileana Trapaga, believes that this measure allows patients to better value the service they are receiving.
"When we tell our patients that this doctor visit costs "x" amount, it's supposed that this person will be pleased when they leave with the service they received from us, from the treatment, good medical care, correct diagnosis," a good physical exam and later, if needed, diagnostic tests, which we sometimes do out of complacency," Doctor Trapaga stated.
However, some patients view this decision with considerable suspicion.
"They've been talking about this issue of how much health care costs for ages now and nothing happens here just because they feel like it," a resident from El Cerro neighborhood in Havana, Antonio Mendoza told Cafe Fuerte.
Mendoza said that getting a doctor's visit or a specialist exam in Cuba is becoming more and more difficult because of the lack of medical personnel on the island, which has led to many people entering into private deals with doctors so they can be seen.
Miami patients
Even a lot of Cuban residents in Miami travel back to Cuba to have treatments and surgery done, paying doctors on the island in cash and paying much less than what they would in the United States for the same services.
"This has been going on for a while and whoever doesn't want to face the facts is blind," Mendoza said.
MINSAP's own authorities have recognized the deficit in doctors in different key specialist areas such as neurosurgery and obstetrics, and repeat that cases of corruption in the sector will be punished and made an example of.
The issue of quality of healthcare services and the lack of medical personnel on the island has been the subject of debate at many labor and student meetings, as well as high-level government meetings, including municipal and provincial Communist Party assemblies.
Cuba currently has over 50,000 health workers offering out their services in 67 countries on government contracts. This week, it was announced that Cuban doctors and nurses will now work in Vietnam, under a three year contract in the fields of obstetrics, gynaecology, pediatrics, plastic surgery, cosmetic surgery and family doctors.