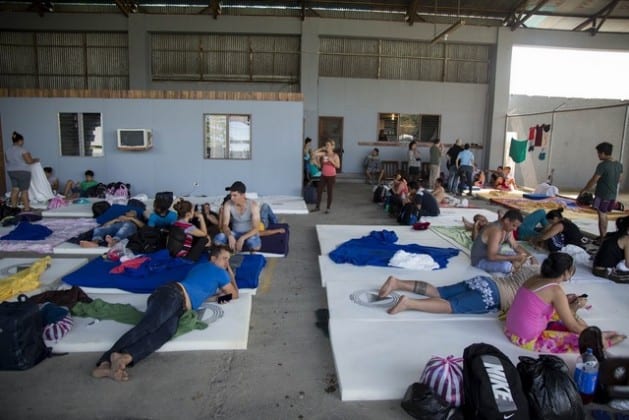 HAVANA TIMES — A meeting of 11 foreign ministers of Latin America, convened today to solve the immigration crisis of over 3,100 Cubans in Costa Rica, ended without agreement in El Salvador, reported dpa.
Costa Rican Foreign Minister, Manuel Gonzalez, lamented the "lack of results of this long effort", and accused Nicaragua of refusing to resolve the conflict by maintaining "unchanged" its rejection to allowing the Cubans to transit through its territory.
Since the '80s the government of Nicaragua spoke of his brotherhood with the people of Cuba, which has provided invaluable assistance in the areas of education, health and others to the Central American country.
More than 3,100 Cubans await the opportunity to continue their trip to the United States that began in Ecuador several weeks ago. Of these, almost 2,000 are waiting on the northern border, after Nicaragua refused to allow them passage, calling out riot police and the army to stop them.
Foreign Minister Gonzalez called on the other governments to "move from rhetoric to action" and take urgent action to help the Cubans reach the United States through a humanitarian corridor.
However, in turn, Nicaraguan deputy foreign minister, Denis Moncada, said Managua's "position remains unchanged" in the sense that it will not open its doors to the migrants, and demanding Costa Rica "remove" the Cubans from the border area.
Moncada accused the Costa Rican government of "violating the sovereignty" of Nicaragua to supposedly encourage a flood of migrants and thus pose a "threat to national security".
In turn, the Costa Rican Foreign Minister accused Nicaragua of "trying to mix one thing with another," referring to the border conflicts between San Jose and Managua dating back several years.
Almost 2,000 Cubans arrived to the northern border of Costa Rica on November 15th after traveling from Ecuador, the only country on the continent that receives the islanders without requiring a visa. But while trying to cross into Nicaragua, they were attacked with tear gas and rubber bullets by the military and police, whose troops are still guarding the border.
"We have always been in solidarity with migrants, especially the Nicaraguan migration south. Costa Rica has received in solidarity and has incorporated hundreds of thousands of Nicaraguans to its economy," said the chancellor.
Salvadoran Foreign Minister Hugo Martinez said his country calls for "a comprehensive and structural solution" to the serious problem of Cuban migrants, although the meeting was apparently reduced to "bilateral responses" of the governments involved.
He supported the Nicaraguan position in the sense that Cubans have the same right to be benefited by an immigration law of the United States (which allows them to legalize their stay in the country), as thousands of Central Americans who try daily to realize their "American dream ".
Martinez said that El Salvador will ask the International Organization for Migration (IOM) to support Costa Rica in shelter conditions for Cubans who are in their territory, and decrease the risk of a humanitarian crisis.
Meanwhile, more cubans continue to arrive by the hundreds at the southern Costa Rican border with Panama, heading nort