Cubans with Dry Feet and Wet Hearts
By Rosa Martinez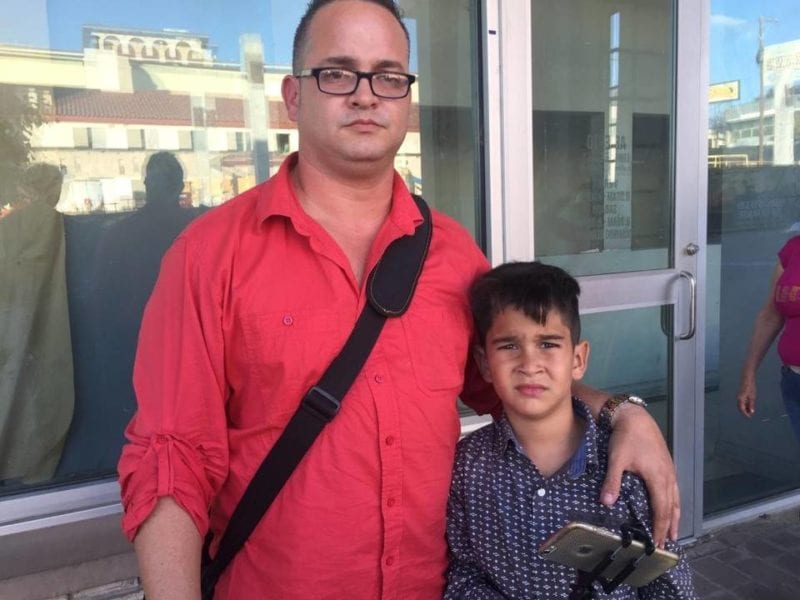 HAVANA TIMES — The photo of a man from Guantanamo with a wide smile has flooded social media. He was in the small group of Cubans who were the last ones to cross over the US border before the joint decision to revoke the "Wet-feet, dry-feet" policy came into effect.
The photo of another fellow guantanamera – who I happen to know – is also on the Internet. However, she isn't smiling, on the contrary, she's crying and even seems to be shouting, because she will have to return to Cuba without her husband who did in fact manage to enter the United States, but she got there too late.
Yamilka is a neighborhood friend of mine who has embarked on six trips to Guyana in less than 10 months. She used other people's money to finance her first two trips, but she no longer had any debts when she left on her last trip. She had thought about making two more trips, at least, with what she could add from the sale of all her belongings and leave Cuba via this same country. However, she will now have to think twice about doing this, like hundreds of Cubans still on the island…
Ramon is a butcher and a friend of my husband. After many years of trying to go to the United States down the legal route, he got tired of being rejected by the US Immigration Office in Havana and decided to sell his car and his home and to take the risk of traveling across all of the American continent. He feels like he's getting old and that if he waits any longer, he won't have the strength anymore to start all over in another country. Ramon took too long and if he does decide to leave in the end, and arrives, he'll be treated like any other latino or any other citizen in the world who enters the powerful country in the North by illegal means. He won't have any papers and he'll run the same risks as anyone else: having to hide, to work and live like a slave and if he's caught, well he'll have to return HOME.
Hayde is stranded in Panama. To get there, she sold all of her belongings here in San Justo (a neighborhood in Guantanamo city), including her house in order to pay for her journey, like the majority who emigrate do. Her parents were the ones to break the news to her, who immediately called her after the announcement was made on January 12th. "Come back my daughter, there's nothing else you can do," her parents said, "you have your home here, you'll never bother us." However, between tears and anger, she told them: "No, I'm not going back to Cuba, no matter what I have to do."
Adela, a 60 year old housewife, feels very sorry for Cubans who have already set out on the long journey by sea or over land towards the land of the Cuban dream. She would like the US government to make a special deal with them so that they aren't out in the cold, but she is happy that the "wet-foot, dry-foot" policy is no longer in practise. Her only son has failed in his two attempts to illegally leave the country: the first time, he was just a kid, but he still had to go to prison because he was found near the Guantanamo Naval Base and considered a threat to national sovereignty; the second time, he was held prisoner for a few days in Cuba's most western province, Pinar del Rio, and then returned home; but the third time, like he himself says, will be the charm. Adela knows that thanks to this agreement between the two countries, her son will no longer try to cross over by sea.
Arturo reached the United State two months ago. He wanted to get a little bit more money together so that he could make a safer trip but rumor was going round that the Cuban Adjustment Act might fall through so he pushed his journey forward. He went alone, he left his wife and his two children behind in his beloved country. He couldn't let them take the same risk. His idea was to work very hard and save as much as he could to pay for a safe passage for his family. Now he doesn't know what will happen with them, if the new agreements will allow him to appeal for them one day or if he can bear the long spell of solitude that awaits him.
These are just some of the cases of people from Guantanamo who are either here or there. You know already that like them, there are thousands more.