Cuba's Bebo Valdés Dies at 94
Jazz pianist/composer and father of Chucho Valdes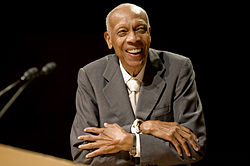 HAVANA TIMES — Bebo Valdes, Cuban jazz pianist and composer, died Friday in Sweden at the age of 94.  Valdes' long career was divided between his stages in Cuba and then abroad.
Born in 1918, Bebo  played over a decade at the famous Tropicana cabaret alongside greats including Benny Moré, Ernesto Lecuona, Cachao and Mario Bauza, noted BBC Mundo.
Bebo immigrated to Sweden in 1960. In recent years he was living in Benalmádena, España.  His son Chucho Valdes, considered the foremost Cuban jazz pianist over recent decades, resides in Havana.
Bebo's most famous album was the grammy award winner "Lagrimas Negras" along with flamenco singer Diego El Cigala.
His last recording was a tribute to Cuban music, titled "Bebo y Chucho Valdes, juntos para siempre".