Cuba's Civil Defense Prepares for TS Isaac
by Circles Robinson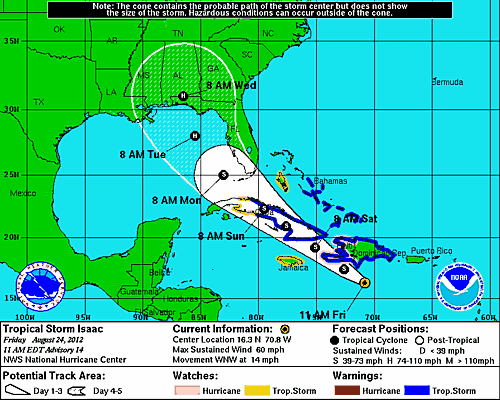 HAVANA TIMES — Cuba's acclaimed civil defense system issued an advisory, kicking off preparations the possible passing of Tropical Storm Isaac.
The tropical storm warning was issued for the eastern provinces of Guantánamo, Santiago de Cuba, Granma, Holguín, Las Tunas and Camagüey as well as the central provinces of Villa Clara, Ciego de Avila and Sancti Spiritus. A tropical storm watch is in effect for Matanzas and Cienfuegos.
The authorities began weighing the possible impact of intense rains and subsequent flooding, taking into account the water levels of dams, channels, rivers and the urban drainage situation.
Another area to consider is the possibility of mountain roads being interrupted. This includes an assessment of risks at tourist installations.
The job of the Civil Defense is to assure timely evacuations when necessary to safeguard both human life, animals and economic resources in the risk areas of each territory.
Latest Report on Isaac
Tropical Storm Isaac is currently moving in the central Caribbean south of the Dominican Republic. At 11:00 a.m. (EDT) on Friday, the center of the storm was located by the National Hurricane Center (NHC) in Miami at 165 miles (265 km) south-southwest of Santo Domingo, Dominican Republic and 185 miles (300 km) south-southeast of Port au Prince, Haiti.
Isaac is moving west-northwest at a speed of 14 miles per hour (22 km/h) and now has increased winds of 60 mph (95 km/h)
A hurricane warning is in effect for Haiti which is now seen as likely to receive the direct impact of the storm late Friday or early Saturday.
Besides central and eastern Cuba, a tropical storm warning is also in effect for the Dominican Republic, and the central and southern Bahamas.