Cuba's Fidel Castro Back in Public
By Circles Robinson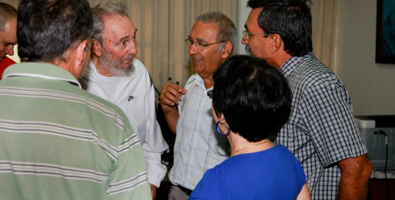 HAVANA TIMES, July 11 — Former Cuban President Fidel Castro made his first public appearance in four years, reported Juventud Rebelde newspaper on Sunday.
Outside the public eye since he relinquished his post as president at the end of July 2006, Fidel had only been seen in photos of closed door meetings with foreign dignitaries.
The reappearance of Fidel Castro took place at the National Center for Scientific Research (CNIC) on July 7, during the 45th anniversary of the institution, a forerunning to the founding of a Scientific Center on the west side of the Cuban capital, noted the daily.
Coming on the heels of the announcement that the government of Raul Castro will release 52 political prisoners, the reappearance of Fidel —who still heads the Communist Party— will no doubt fuel speculation as to whether the leader is considering a return to the limelight.
During his long convalesence after intestinal surgery, Fidel Castro pens a column titled Reflections from the  Commander-in-Chief, which is published in all the local press.