Cuba's Future Stars on Display
By Peter C. Bjarkman*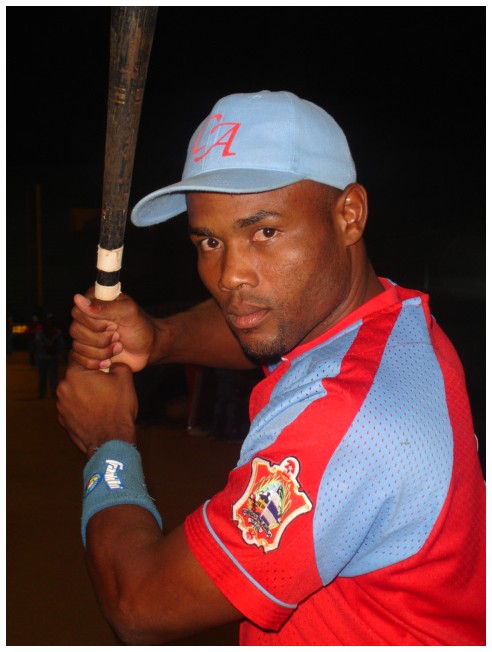 HAVANA TIMES, July 6 — The mainstream North American baseball press has paid only fleeting attention to this week's Rotterdam-based World Port Tournament. The one seemingly all-encompassing headline story for media outlets interested only in the enterprise of US professional baseball was the departure from the Cuban squad of coveted big league prospect Aroldis Chapman.
For most writers this breaking story as always featured the requisite knee-jerk political overtones. One MLB-affiliated blog page reported that in departing the Cuban squad Chapman was personally "thumbing his noise at Fidel Castro" while still another ill-informed reporter speculated on a rumor that the youngster's actual age might be closer to 26 than to the 21 years officially reported.
Numerous other sources labeled the Holguín portsider as "the top left-handed prospect on the planet" (one quipping that "Stephen Strasburg was only an English-speaking Aroldis Chapman." In brief, all the same tired cliché's that accompany any rare departure of a top prospect from the Cuban baseball scene.
Most disheartening here is the demonstration of how quick some commentators are to reprise old myths and how unwilling most are to do any homework before spouting the same old party lines. Why would anyone assume that the youthful pitcher was focusing on making a political statement rather than merely gambling on his own potentially lucrative future professional career?
And what reason is there for doubting Chapman's age as listed in the recent MLB-produced WBC media guide. The Cubans have never been known to doctor ballplayers' ages, and they would certainly have no conceivable reason for doing so. That is a trick employed by US-based player agents seeking top-dollar contracts for often over-rated and consequential over-sold Cuban prospects.
Chapman's age is precisely as reported in the WBC media guide, the World Port Tournament media notes, and here on the pages of www.baseballdecuba.com. He was born September 11, 1987, in Cayo Mambí, Holguín Province, and will thus turn 22 this coming fall. All one has to do to put this age issue to rest is to revisit the years Chapman pitched for the Cuban junior national team. There are no age deceptions to be uncovered here. And there are certainly no reasons to speculate that the touted prospect left Cuba for anything other than purely personal economic reasons.
Almost equally disheartening is the degree to which these Chapman reports have completely overshadowed several other intriguing developments at the current Rotterdam round robin. For those who follow international tournaments and those at all interested in the IBAF world baseball picture on the eve of September's Europe-based World Cup competitions, far bigger stories have been unfolding this week in Rotterdam's Neptunus Family Stadium.
Admittedly, of course, these developing stories impacting the international baseball scene hold zero interest for the bulk of North American fans who are convinced that the diamond sport both begins and ends with the top-dollar entertainment spectacle provided by Major League Baseball alone.
Cuban League Depth Evidenced
What is actually being offered this week in Rotterdam is still more evidence that Cuban League baseball is every bit as healthy and strong as ever on the eve of yet another IBAF World Cup tournament, despite the occasional departures of prospects like Chapman (or previously, Yadel Martí or Yasser Gómez or José Julio Ruíz, to name three other recent "defections" of frontline Cuban Leaguers).
And what is also on display in the Dutch baseball capital is the final death throes of a veteran Netherlands team that performed so surprising well during the March World Baseball Classic in San Juan (twice upsetting the all-star Dominican major leaguers) but is now suffering the inevitable consequences of nearly a decade without any significant lineup changes on its rapidly aging veteran squad.
Aroldis Chapman will be missed in the Cuban camp; there is no sense denying that. He might well have developed into an ace on the national team staff (though up and down performances over the past several seasons offered no absolute guarantee that would ever happen). And it is never a plus when quality young prospects like Chapman (or earlier Kendry Morales and Yunieski Betancourt) abandon the domestic league.
But Cuba is also not without a multitude of young and mid-career pitching talent, as the performances of the likes of Miguel Alfredo Gonzalez (post-season MVP and winner of a record five straight games in this year's playoffs), Freddy Asiel Alvarez (19-year-old ace of the junior national team a couple of years back) and Maikel Folch (a 28-year-old southpaw who regularly outperformed Chapman during the past three league seasons) have already been demonstrating here in Rotterdam.
Far greater concern for the Cuban baseball brain trust has to be the departure of frontline stars through inevitable retirement rather than abhorrent "defection" from the island. Foremost there is the issue of replacing the invaluable Ariel Pestano behind the plate (Pestano earlier announced that this year's World Cup will be his swan song). Top backups Eriel Sánchez (33) and Rolando Meriño (37)—both currently playing here in Rotterdam—are aging veterans, which leaves Yosvani Peraza (already 29) and Yenier Bello (22) as the most likely replacements.
Pedro Lazo is contemplating retirement (I will write about this in an upcoming column) and may not make the trip to Barcelona in September. Vladimir García (20) is thus being groomed as the new national team closer. Eduardo Paret is now in Mexico and has played his last games, thus handing the shortstop slot at least temporarily to Luis Navas (28). However, so far Yorbis Borroto (23) of Ciego de Avila has played flawlessly here in Rotterdam at the middle infield slot and may be waiting in the wings.
In the outfield there are so many young prospects that it is hard to sort them all out: Alfredo Despaigne (22, Granma), Yoennis Céspedes (22, Granma), Ruby Silva (19, Habana), Yéral Sánchez (23, Holguín), Leonys Martin (20, Villa Clara), and Yoelvis Fiss (29, Ciego de Avila) are tops among them, and the latter two—Martin and especially Fiss—have wielded the heaviest bats in Holland this past weekend.
Two years ago it was names like Peraza, Despaigne, Olivera and Bell that first turned numerous heads in Rotterdam. One big league scout told me at the time that then-21-year-old Hector Olivera had the best body and moves on an infielder he had ever seen with any international prospect. Peraza in his first international trial far outpaced the tournament field with 17 RBIs in nine games and also proved he was a rapidly improving defender behind the plate.
Alfredo Despaigne was the tournament's top hitter and thus played himself onto that fall's World Cup squad. A few months later most of these prospects were in fact debuting on the Cuba A Team at the last World Cup in Taiwan (November 2007). Jose Julio Ruiz also performed admirably at first base during the 2007 World Port event (leading the tournament in homers with four), but Jose Julio never did crack the crowded field of national team first base candidates and subsequently fled the island (March 2009) in hopes of a possible shot at the lucrative big leagues.
Chapman, Just One of a Promisiong Staff
This summer a similar scene is already again being played out. While distant commentators in the USA press wax poetic about Chapman's prospects (and the apparent blow he has struck against Cuban baseball fortunes), those more in the know are paying closer attention to the progress of three other young Cuban aces—Miguel Alfredo Gonzalez, Freddy Asiel Alvarez and Maikel Folch.
Neither Miguel Alfredo (six innings) nor Folch (seven innings) have surrendered a single tally in their opening starts. Freddy Asiel was nearly as effective against a much tougher Taiwan lineup, yielding but three safeties and a single run in six innings of work as the game three starter. Yadier Pedroso, Miguel Lahera and Vladimir García have also been untouched (zero runs, 5 hits) in eight innings of combined relief work. And the Cuban mound corps (with the exception of the 1-0 opener over Holland) has worked with plenty of offensive support to ease the burden.
The performance to date of the young Cuban hurlers and sluggers this week in Rotterdam once again seemingly dispels a myth that a handful of key departures will somehow doom a Cuban juggernaut that has so long dominated international baseball competitions.
In the first three Rotterdam games this weekend a trio of top pitching prospects has served noticed that some hefty arms are now on the horizon to replace the likes of aging Pedro Luis Lazo, Norge Luis Vera and Norberto González. With a single exception of Noelvis Entenza's rocky outing on Sunday, Cuba's pitching has been nearly perfect with an overall 1.75 ERA and a single run allowed over a trio of games (with back-to-back opening shutouts).
Maikel Folich's seven-inning outing versus Team Japan produced a tournament-best 0.48 opponent's batting average and 0.91 opponent's on-base percentage. In four perfect relief innings (two games) Yadir Pedroso has yielded a single hit, struck out five, and allowed the opposition an anemic .091 batting average. Folch's total of eight Ks in seven innings is currently tied for the tournament lead.
Sunday afternoon's game number four was the one that Aroldis Chapman was originally penciled in to start—a planned first step in a now abandoned campaign to earn a spot on the September World Cup roster.
Chapman was by no means a certainty for the September team given his soaring ERA at the recent World Baseball Classic and his failures to make the final 2008 Olympic team cut. But if the original number four starter on the Cuba B squad was missed it was hardly apparent from Sunday's eventual results.
Yaumier Sanchez (a developing 30-year-old Santiago right-hander with a 10-3 record for 2009) stepped into the void in the rotation and pitched quite well, if not spectacularly, yielding eight hits and but two runs over five frames to gain victory against the still-struggling host Netherlanders.
Sanchez suffered the same curse Sunday that has long plagued Chapman—wildness in the form of the dreaded base on balls, walking five while striking out seven. But four-run uprisings in the first (three-run homer by Fiss) and third (two-run double by Borrero) built a 9-1 lead that only dwindled in the middle frames when Noelvis Entenza yielded five hits and four markers over three rather inartistic relief innings.
While the pitchers have received most of the attention this week, the second-level Cuban hitters have also been making their claim for rapid advancement. Leonys Martin (a pair of two-hit games) has been impressive, as have veterans Rolando Meriño (knocking in the only run of the opener), Eriel Sanchez (batting above .400) and Ariel Borrero (with the team's only other homer and the event's second best slugging average of .733). But the biggest stick has been wielded by Ciego de Avila outfielder Yoelvis Fiss.
Fiss, who at 28 still has yet to crack the national team outfield despite a number of outstanding National Series outings (he batted .343 with 16 homers and 72 RBI this current season), exploded against Dutch pitching on Sunday afternoon with a homer, double and four RBI.
Across the four games Fiss leads the field in slugging average (1.000), homers (2), base hits (10), and RBI (9), and trails only teammate Adonis García (.556 to .571) in the tournament's individual batting race.
Cuba as a team is batting at an astonishing .377 clip and six of manager Machado's sluggers (Garcia first, Fiss second, Sanchez fourth, Borrero fifth, Rafael Valdes ninth, and Rolando Meriño tenth) sit in the top ten of the batting average derby. And rookie third baseman Adonis Garcia has rather quietly launched a spectacular start of his own that has left him first in batting (.571), third in slugging (.643), and also first in on-base percentage (at .600, slightly ahead of Fiss at .556),
Perhaps not too much should be read into the scoreboard results in Rotterdam over the first five days. The Dutch have apparently not shown up ready to play and the Asian clubs are hardly the caliber of opposition offered by top-flight tournaments like the World Cup or Intercontinental Cup matches.
And yet the outcomes of these games should not be lightly dismissed either. The two Asian squads always bring top-level amateurs, even if their frontline pros are not here this time around. And as for the one-and-four Dutch (who finally climbed into the victory column against Japan on Monday night), this is basically the same club that grabbed so much attention in San Juan and Miami during the World Baseball Classic festivities last March.
The veteran lineup including Eugene Kingsale, Raily Legito, Sidney de Jong, Bryan Englehardt, Danny Rombley, Vince Rooi, and Michael Duursma has sorely tested (and even once defeated) Cuba's top forces on several occasions over the past half-dozen or so seasons. Of course the Dutch team enjoyed its successes in San Juan (versus the Dominicans) mainly on the strength of pitching and not hitting, but such mainstay experienced arms as Dave Bergman, Rob Cordemans, Berry van Driel, Michiel van Kampen, Pim Walsma and Cuba-killer Diegomar Markwell are all still in the Dutch camp.
So far the repeated Dutch failures have been an even bigger surprise than the strong (and not entirely unanticipated) Cuban pitching. It is not merely that the hometown Orangemen have dropped four straight in front of the hometown fanatics in Rotterdam that so surprises, but also the fact that a starting lineup almost identical to the Rob Delmonico-managed WBC outfit has been shut out twice and also manhandled by both Asian amateur ball clubs.
There is a full week of action yet remaining, however, and all three opposing outfits may yet raise some serious opposition for the so-far untested Cuban forces. But this tournament has already in just five days revealed its most prominent theme.
No matter what happens from here on out, it is quite clear that there are yet again a slew of talented reinforcements awaiting their chance in the Cuban camp. And for most of these prospects (plus a few seasoned veterans like Eriel Sanchez, Ariel Borrero, and Rolando Meriño bent on comeback returns to the stellar national team) that chance constitutes another shot are winning praise and honor back home by performing in future international tournaments.
For the bulk of these stellar Cuban ballplayers the suspected (by USA media experts at least) dream of escaping their homeland for big league fame and fortune is hardly the constant preoccupation many would like to have us believe.
World Port Tournament Standings (through games of July 6)
Team, Record (Runs For and Against as Tie-Breaker)
Cuba 4-0 (28-7)
Chinese Taipei 2-2 (14-21)
Japan 2-3 (15-21)
Netherlands 1-4 (17-25)

Top Ten Tournament Batters (July 5)
Adonis García (Cuba) .571 (.643 slugging average)
Yoelvis Fiss (Cuba) .556 (1.000 slugging average, 2 homers, 9 RBI)
Yohei Yamamoto (Japan) .467
Eriel Sanchez (Cuba) .429
Ariel Borrero (Cuba) .400 (.733 slugging average)
Sidney de Jong (Netherlands) .400
Eugene Kingsale (Netherlands) .375
Ryosuke Katsumi (Japan) .375
Rafael Valdez (Cuba) .364
Rolando Meriño (Cuba) .333
*For more coverage of the Rotterdam World Port Cities Tournament click on: http://www.baseballdecuba.com/rotterdam2009.asp