Cuba's Legislature Considers Same-Sex Marriage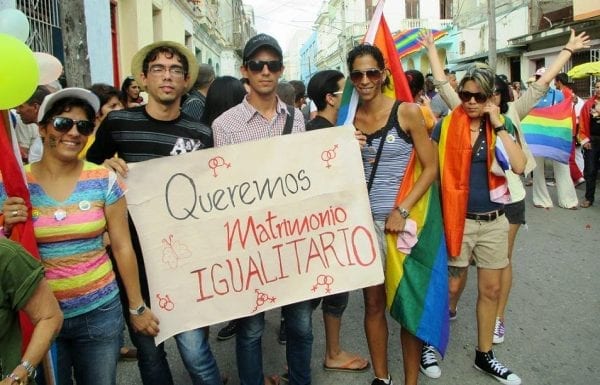 HAVANA TIMES – The reforms in the Cuban Constitution under discussion this weekend may modify its text to recognize same-sex marriage, one of the great demands of the LGTBIQ community of the island, according to information released from the closed door meetings.
According to the proposal, in its article 68, the new text will reflect marriage as "the consensual voluntary union between two people" without specifying that they have to be a man and a woman as it currently states, so it will leave open the possibility of getting married for the LGTBIQ community.
"I believe that the principles of equality, justice and humanism that our project has are reinforced by that possibility of marriage between two people," said Homero Acosta, secretary of the State Council, when announcing the proposed amendment to the legislators.
If approved, "It would open the door to be able to advance later in the legalization of homosexual couples," journalist and well-known gay activist Francisco Rodríguez said on his blog.
Homosexuals were harassed in the early years of the Revolution and even interned in labor camps, supposedly to modify their sexual orientation.
But in recent years, the Cuban gay community has won social spaces thanks in part to the work of Mariela Castro, who runs the National Center for Sex Education (Cenesex).
Mariela is the daughter of former President and the current Communist Party leader, Raul Castro.

The possibility of recognizing marriage to homosexuals aroused in recent weeks opposing campaigns on the part of the evangelical churches.
"I am in favor of the Cuban design: an original family, the family as God created it", indicated the posters distributed in the evangelical churches.
The parliament members began Saturday the debates on constitutional reforms in plenary session that will last until Monday. Afterwards the approved changes will be discussed in public assemblies and the process will end with the holding of a referendum, for which there is no date yet established.