Cuba's State Entities Benefit from Local Laptop and Tablet Assembly
By Daniel Benitez  (Cafe Fuerte)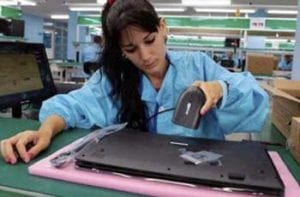 HAVANA TIMES — While having a computer or tablet is a distant dream for many people in Cuba due to the high prices they sell for on both the regular and black market, a government institution has been assembling both electronic devices to sell to state owned companies and institutions.
From last December to this March, that is to say in just three months of production, 1500 laptops and over 3500 tablets have been assembled, figures which are relatively modest given this kind of industry.
The Industrial Company for Computers, Communications and Electronics (GEDEME) was the first on the island to have a specialized production line for these types of devices, whose hardware, or physical parts come from the Haier company in China. The software has been "made in Cuba" courtesy of the University of Information Sciences (UCI), which has designed Nova Operation Systems for laptops and NovaDroid for tablets.
GEDEME is also responsible for selling these devices in the chain of wholesale stores across the country to State entities.
The government decides
The tablets have 8 and 10 inch screens; the largest comes with an integrated keyboard and several features such as mini and USB drives, as well as HDMI.
According to information provided by government media, laptops use processors such as Core i3, Celeron and Core i5. Other performance details weren't disclosed.
Although this factory has been highlighted as the answer "to the Cuban State's determination to continue broadening the safe computerization of Cuban society," these devices will not be sold to the general public on the retail market. Only authorized government institutions will have access to them. The price of each unit hasn't been disclosed either.
Market projections
Experts' estimate that when in full production, approximately 120,000 units will go onto the market each year, tested against humidity.
The latest government statistics show that there are a total of a 1,071,600 computers currently in Cuba, half a million of which are connected to some kind of network.
The level of these devices per 1000 persons was estimated at 95.
The inauguration of the assembly line on December 23rd last year was attended by the First Vice-President Miguel Diaz Canel and Vice-President and Comandante of the Revolution, Ramiro Valdes.