Daniel Ortega Arrives in Havana for Meeting with Allies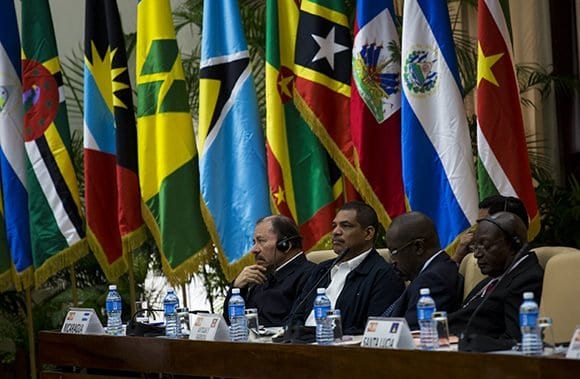 HAVANA TIMES – Nicaraguan commander Daniel Ortega is in Havana, Cuba, to attend the XVI Summit of Heads of State of the Bolivarian Alliance for the Peoples of America (Alba), reported 100% News.
Hours after ordering the police attack and pillaging against several Nicaraguan non-governmental organizations, Ortega appeared in Havana where he will receive the support of his allies from Cuba, Venezuela and Bolivia.
Ortega joins presidents Nicolás Maduro, Evo Morales and host, Miguel Diaz Canel, to attend the celebration of the 14 years since the creation of the ALBA forum.
The trip was unannounced, and it comes after two last-minute aborted trips of Ortega to the General Assembly of the United Nations in September and the Ibero-American Summit in Guatemala in November. In both instances hundreds of Nicaraguans and supporters had mounted protests against his announced presence. In Cuba, protests are forbidden, as in today's Nicaragua, and thus Daniel can enjoy being among friends.
"Present in Cuba (are the) presidents of Venezuela, Bolivia, (and) Nicaragua to attend the XVI Summit of Alba," Cuban Vice Minister of Foreign Affairs, Rogelio Sierra, announced on his Twitter account.The summit will opened this morning, to be followed by an official celebration ceremony in the afternoon, for which the speakers have not yet been announced, but where Maduro and Cuban President Miguel Díaz-Canel are expected to speak, as leaders of the countries founders of the organization.
Ortega was received upon his arrival to Havana by his counterpart and supporter Miguel Díaz-Canel.
The Alba was created 14 years ago on December 14, 2004 by the deceased presidents of Venezuela, Hugo Chavez, and of Cuba, Fidel Castro, as an alternative to the Free Trade Area for the Americas (FTAA), promoted at the time by the United States.
The other member countries are Antigua and Barbuda, Bolivia, Dominica, Nicaragua, Saint Lucia, Saint Vincent and the Grenadines, Grenada and Saint Kitts and Nevis.