Daniel Ortega Sends Yatama Deputy to Women's Prison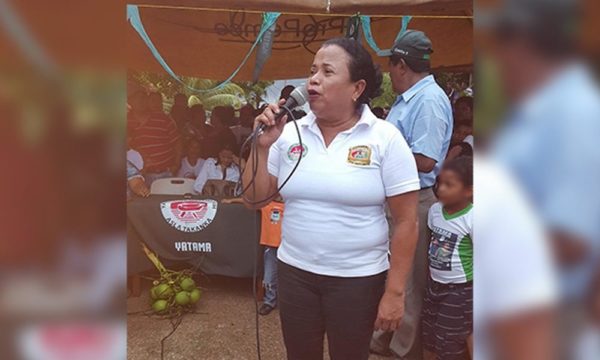 Nancy Henriquez, president and legal representative of Yatama, was arrested on October 1 in Managua after responding to a police summons
HAVANA TIMES – Nancy Elizabeth Henríquez James, the alternate deputy of the Yatama indigenous party, abducted by the dictatorship of Daniel Ortega on October 1, is now in the La Esperanza women's prison better known as La Esperanza, her daughter, Liza Francis Henríquez, confirmed to LA PRENSA.
After several days of searching in Managua, Henriquez's relatives, originally from the Autonomous Region of the North Caribbean Coast of Nicaragua (RACCN), finally managed to see her in the women's prison, located in Tipitapa.
"My aunt, her sister, got to see her there. We don't know how long ago they took her to La Esperanza, but on Wednesday my aunt visited her there," said Liza Henríquez, who reported that her mother is not in good health and fears for her life.
Henriquez, president and legal representative of the indigenous party Yapti Tasba Masraka Nanih Aslatakanka (Yatama), which means Children of Mother Earth, in the Miskito language, was arrested on October 1 in Managua, after being summoned by the police for questioning about the case of the registered deputy and founder of Yatama, Brooklyn Rivera, who was imprisoned on September 29 by the police.
Both Rivera and Henriquez were removed from the list of legislators, and then the Supreme Electoral Council (CSE) summarily canceled Yatama's legal status.
Last Thursday, Ortega Deputy Gustavo Porras, president of the National Assembly, appointed the alternate deputy for the ruling Sandinista National Liberation Front (FSLN), Ana Valeria Rafael Alfred, as an "independent" registered deputy, to represent the North Caribbean Coast Region, a seat that Rivera held in parliament.
IACHR Grants Precautionary Measures to Nancy Henríquez
On October 11, 2023, the Inter-American Commission on Human Rights (IACHR) granted precautionary measures in favor of Nancy Henriquez, after considering that she is in a serious and urgent situation of risk of irreparable harm to her rights in Nicaragua.
Therefore, the IACHR urged the State of Nicaragua to adopt the necessary measures to determine the situation and whereabouts of Mrs. Nancy Elizabeth Henriquez, in order to protect her rights to life and humane treatment.
It also calls for information on the conditions of detention in which she is currently being held. In particular, to inform about the location of her detention, allowing access to her lawyers and relatives, as well as the necessary health care.