Danny Weakens, No Longer Hurricane
Some Good Weather News for Eastern Cuba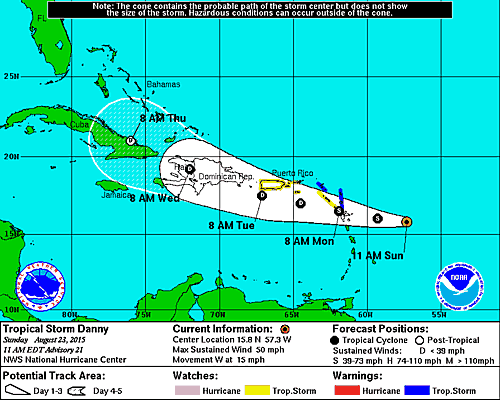 HAVANA TIMES — Hurricane Danny has weakened to a Tropical Storm and is expected to downgrade further to a tropical depression on Monday, when it is posed to enter the Caribbean via the northern portion of the Leeward Islands and approaches Puerto Rico.
The good news for Cuba is that Danny, while not being a very large storm, could bring some much needed rain to the island's draught plagued eastern provinces sometime on Wednesday and Thursday.
At present Danny packs 50 mph maximum sustained winds and has a minimum central pressure off 1003 milibars, reports the National Hurricane Center (NHC).
Danny will most likely drop between 2 and 4 inches of rain on the Leeward Islands, the US and British Virgin Islands and Puerto Rico through Tuesday noted the NHC.
A tropical storm warning is in effect for Antigua, Barbuda, Montserrat, St. Kitts, Nevis, and Anguilla and a tropical storm watch for Puerto Rico, Vieques, Culebra, US Virgin Islands St. Maarten, Saba and St. Eustatius.