Despaigne Back in Cuba, Passport Mystery Unresolved
Circles Robinson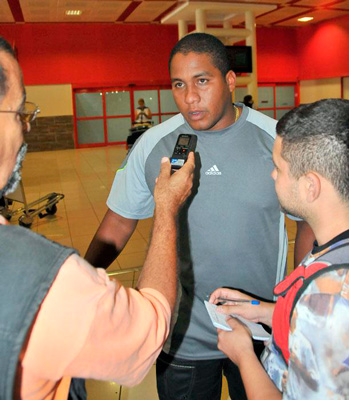 HAVANA TIMES — Cuban outfielder Alfredo Despaigne had to cut short his summer season with the Campeche Pirates in Mexico, suspended in a false document scandal that still has all parties claiming innocence. He arrived home to Cuba on Monday, reported the official Cuban press.
Despaigne was caught allegedly having registered in the Mexican League with a false Dominican Republic passport. However, to date, none of the parties involved, the Mexican League, the Campeche Pirates, the Cuban Baseball Federation (which contracted out the player) or Despaigne have managed to clear up the mess.
Sports analysts note that if the accusation proves true, the scheme was most likely designed to get around the restrictions imposed by Major League Baseball on the Mexican League teams hiring Cuban players. The Pirates are a Triple-A MLB franchise and the US embargo on Cuba prohibits payment to any Cuban whose residence is on the island.
For the star outfielder from Granma, who has been a fixture on the Cuban national team, his honor and reputation is on the line as well as having lost the income he would have received from the Pirates, in his role as cleanup hitter.
Despaigne told the local media that neither he nor the Cuban Baseball Federation had anything to do with the false Dominican passport, first revealed by ESPN's Enrique Rojas. Likewise the Campeche Pirates claimed days earlier to be unaware of the issue while the president of the Mexican Baseball League announced an investigation.
"I am confident that my reputation will not suffer in Mexico and much less in Cuba, because I had nothing to do with the case of the passports. (ESPN actually claimed that Despaigne had used three false Dominican passports starting last summer when he also played for the Campeche Pirates.) I will now spend some time with my family while waiting for the Pirates and the Mexican League to clear up the situation," Despaigne told Granma daily.
Despaigne was hitting a solid .346 with five home runs and 15 RBIs in 20 games with the Pirates at the time of the suspension.