Eastern Cuba on Guard for TS Emily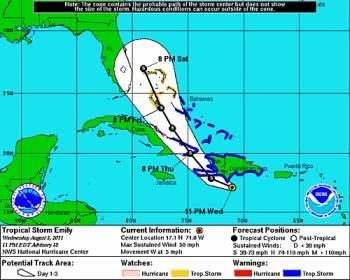 HAVANA TIMES, August 3 — Cuba's Civil Defense authorities in the far eastern provinces of Guantanamo and Holguin are on alert for further developments of Tropical Storm Emily, which has become suddenly stationary south of the Dominican Republic and southeast of Haiti.
Possibly heavy rains and dangerous sea swells could begin sometime Thursday in eastern Cuba noted the Cuban Weather Service (INSMET).
The National Hurricane Center in Miami now predicts that Emily will touch land in Haiti sometime Thursday morning.
After crossing the far western province of Hispaniola Island (shared by Haiti and the DR) the storm is expected to head towards Guantanamo for a landing Thursday night.
With winds of 50 mph (85 kph), Emily was located at 6:00 pm EDT on Wednesday at 136 miles (220 kms) southeast of Port of Prince, Haiti and 335 miles (540) kms. southeast of Guantanamo, Cuba.